American author and entrepreneur Scott Belsky once said, "It's not about ideas. It's about making ideas happen." He reminds us of the obstacles organizations face in leading ideas to fruition. Organizations have various systems and channels for employees to share their ideas — suggestion boxes, dedicated emails, slack channels, meetings —- but so many of these ideas never see the light of the day or grow old waiting for someone to act on them. And the one answer to this is using one of the best Idea management software. 
What is idea management software?
Organizations need frictionless idea management systems that collect, evaluate, and implement ideas from employees, customers, and partners. That's where idea management software comes in — platforms meant to help organizations retain and flourish ideas from within.
That's what we sought to accomplish with InspireIP. Our platform helps leaders and innovation professionals easily source, manage, and grow innovative ideas. 
We want to share our innovative platform with you, along with our curated list of the best idea management software on the market. Sure, we think you'll be satisfied with our unique features and results — but out of the ~275 idea management software out there, it's worth exploring other notable platform innovations, too. 
How did we come up with the list?
We used our refined expertise, and user reviews from websites like G2, Capterra, and Gartner reports.
But first, let's take a quick look at an idea management platform and whether your organization needs one.
Why your organization needs an idea-collection tool?
An idea management software is a system that helps you collect, evaluate and implement ideas. These ideas could address business problems related to revenue generation, cost savings, product development, day-to-day processes, operational efficiency, customer experience, and more.
Imagine if one idea could improve your organization's profits, culture, or efficiency! Wouldn't you want to hold onto it? Develop it? 
The current solutions — suggestion boxes, dedicated emails, Slack channels, and meetings — aren't implemented well. Suggestion boxes are where ideas go to die. In many ways, dedicated emails and Slack channels are no different.
Eventually, ideas get lost in the abyss of chat history and piling inboxes. Meetings aren't a foolproof idea platform either. Dominant personalities could take up space and quiet other team members. Plus, if nobody takes meeting minutes, ideas can be forgotten. 
Bottom line: Without a distinct method to aggregate and route ideas to the right party, ideas stagnate, disappear, or aren't properly evaluated. Meaning? Your organization loses significant value. 


Source – Dilbert
Sound familiar? Your organization isn't the only one. In fact, according to a McKinsey survey, only 6% of executives are satisfied with their firm's innovation performance. This is why idea management software is critical for your organization — to overcome all these problems, and nourish innovation. 
Having stated the importance, let's now look at some of the best idea management software. You can also use the table of contents below to read more about any specific tool. Here are the details you will find about each tool: Tool overview, implementation, pricing and special differentiating features. 
15 Best idea management software and tools:
1. InspireIP Ideas
InspireIP is an AI-powered, cloud-based idea management software that offers the best of both worlds — idea and innovation management. The system was conceived and developed by Sam Zellner, a highly accomplished inventor with extensive innovation and intellectual property experience.
Our platform's robust features are easily implemented to Foster Innovation ASAP!™
Our inspiration? We saw organizations and teams working at 110%. Frontline workers saw common customer issues but couldn't seamlessly transfer potential solutions to the internal teams delivering products and services. Employees weren't sure whether management wanted to hear about their ideas. Plus, there was no process to share them, anyway. 
InspireIP addresses these problems by providing an easy way for employees to share ideas. Not only that — our extensive features tone every idea through team building collaboration, challenges, and reporting. 
Let's take a look at some of those core features. 
Idea Capture-
People conceive ideas at different times, on different days, and in different situations —- InspireIP allows employees to easily share ideas anytime.
Our easy idea capture integrates with popular platforms like Google Chat, Slack, and Microsoft Teams. Unfortunately, ideas are easily lost on those messaging channels. But our one-click idea capture feature allows even the busiest teams to share great ideas.
Users can capture and submit ideas on our web interface or mobile app. The Light Idea Submission Structure (LISS) requires only a title, description, and attachments, making idea sharing quick and easy. Radio buttons capture meta-data about each idea and route ideas to the proper evaluator.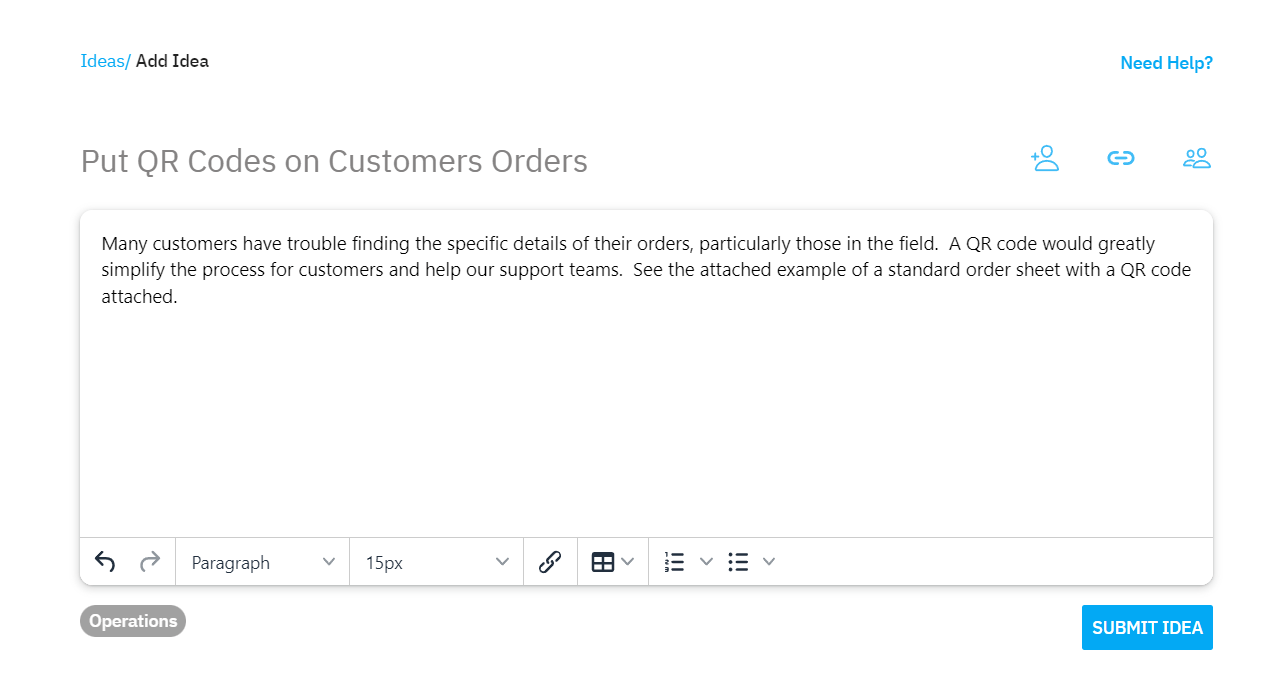 One person could think of a solution, but teams can develop that solution into a big idea. Working together also creates a sense of community that improves employee satisfaction and retention. InspireIP promotes teamwork with its Innovation Team Builder™ feature, which encourages idea contributors to engage fellow employees.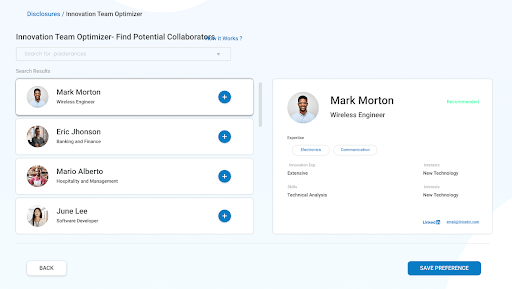 You can use the Innovation Team Builder™ feature to encourage team, cross-unit, and cross-department collaboration, helping inexperienced and seasoned employees connect. 
Creating Challenges-
Ideas deserve a floor to shine and be developed — but that development must include challenges. One medical study describes being challenged as necessary to:
Expand thinking 

Motivate learning

Improve skills

Foster better social interaction
InspireIP allows anyone in the organization to challenge an idea. Perhaps you see a limitation, missing customer need, production problem, or opportunity to significantly lower your expenditures. Challenging the idea allows a company to tap into its collective brainpower and solve a critical issue. Organizations also benefit from educating employees on business values, creating an innovative culture, and fostering collaboration.
The InspireIP platform allows users to run multiple challenges simultaneously alongside the standard idea submission program. 
Idea Management-
Routing ideas to the right evaluator is just as important as retaining the ideas themselves. How can you ensure ideas don't get stuck in a pipeline? InspireIP's Intelligent Routing uses each idea's metadata to get them to the right evaluator. Evaluators can then easily assess ideas with the  Smart Interface. Remember, Idea Challenges have their own special routing and evaluator interface.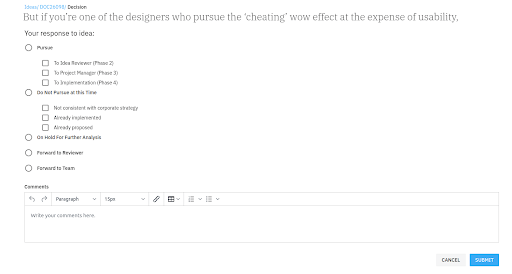 The system continuously monitors and displays idea statuses on user dashboards to keep everyone informed. This promotes transparency and allows program administrators to identify and address idea pipeline bottlenecks quickly. The result?  No more black holes, or email inquiries regarding the status of an idea.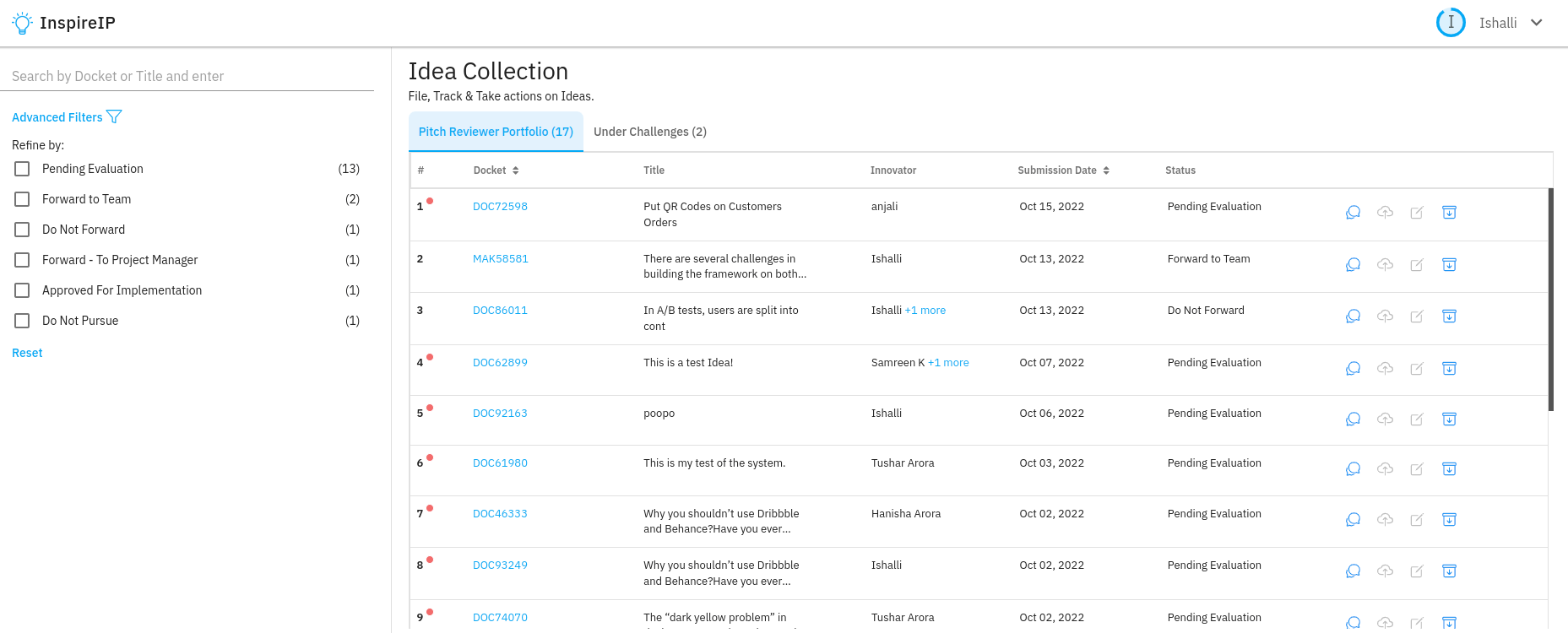 Reporting-
It's easy to get lost in the details. That's why it's critical to always have a high-level view of the participation and activities in the pipeline. InspireIP's reporting helps you quickly answer fundamental questions:
Which groups are submitting ideas?

Which part of the business do these ideas address?

What is the status of each idea in the funnel?

What percentage were rejected and why?

What percentage were approved, and what is the potential value?

Who are the top innovators in the organization? 
Have any unique questions?  Easily extract program data to create custom reports or integrate with other systems.
Other features include: 
A discussion platform
Email notifications 
Dedicated account managers
…and a lot more. 
Pricing-
InspireIP's pricing structure is unique to all the vendors we studied.  InspireIP's pricing aligns the benefits generated with the costs incurred for the innovation service.  This approach encourages companywide participation as opposed to the common industry practice of charging per user. InspireIP offers two pricing options: 
Innovation Starter:

Tiered pricing based on the number of ideas generated (i.e., 100 idea blocks).  

Innovation Pro

: Includes additional features and 1,000 ideas. 
You can also dip your feet with a free trial, which includes 25 free ideas.
Ready to pump up innovation? Sign up for your free trial! 
Implementation-
The learning curve of implementing a new system or program can be costly and lengthy. InspireIP's implementation starts simple and adds functionality as the program grows. No training is required with our intuitive UI that provides guidance as needed. 
2. Aha!
The Aha! is a cloud-based idea management software The company was shortlisted by Capterra as a top performer in the 2022 product management and OKR management categories. 
Aha offers various products for idea management including Aha! Create, Aha! Develop, Aha! Ideas and Aha! Roadmaps.  
The domain, Aha! Create is like a digital notebook where users can record thoughts and collaborate with others. The system's templates help you easily organize information and convert raw concepts into actionable roadmap items — clear steps in your idea development. 
The roadmap product helps identify and analyze various idea scenarios. It also offers a priority ranking feature to rate products by customer experience importance. 
It also helps users: 
Crowdsource ideas

Visualize plans and

Track progress
This is your everyday idea management software. You can use it to crowdsource ideas and gather feedback through comments from partners, customers, and employees. The system also allows you to review, organize and score requests to determine the most valuable.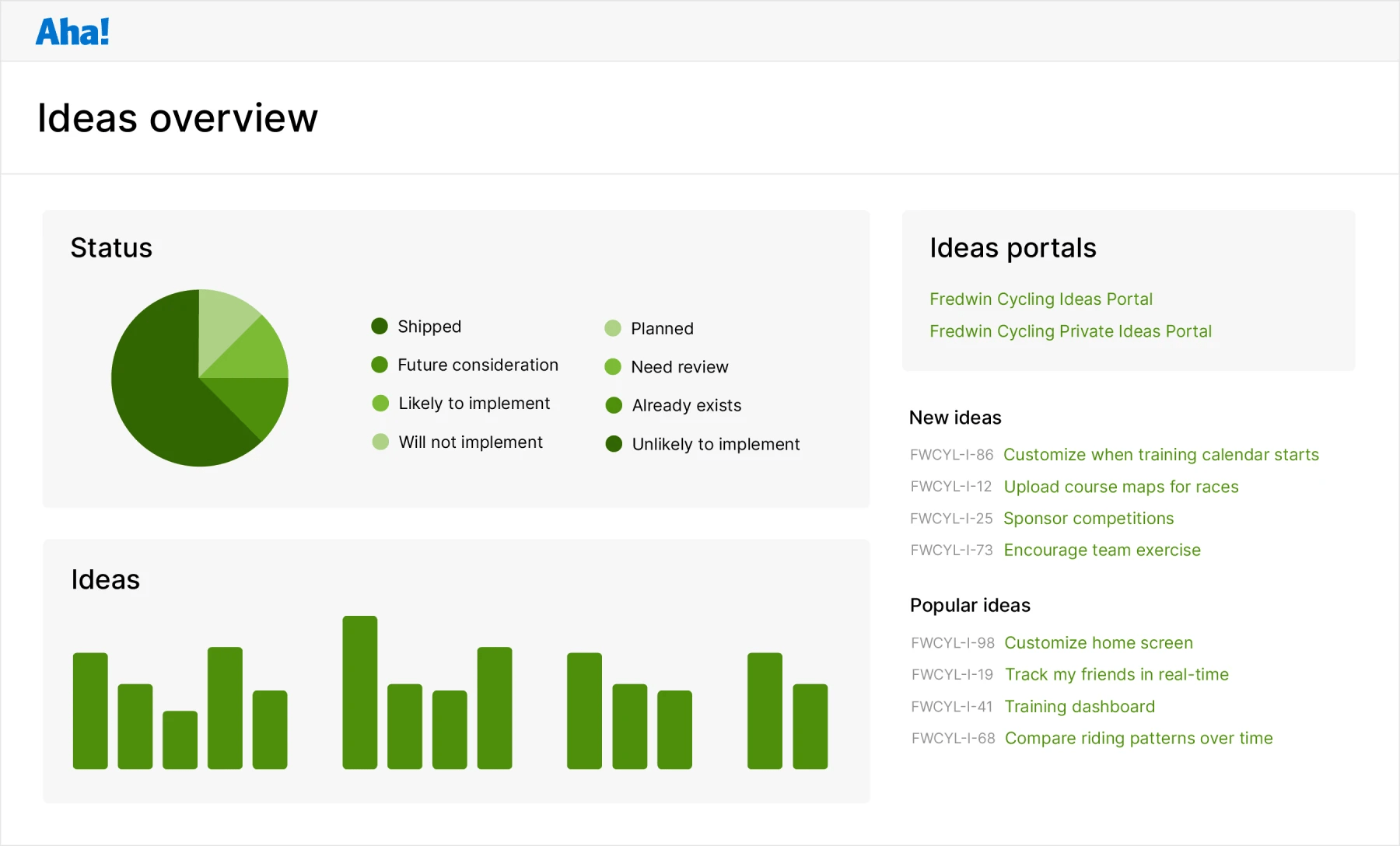 On top of internal feedback, the system lets you capture customer feedback through both qualitative and quantitative data.
Plus, it brings transparency to the ideation process with automatic notifications to anyone who has voted for an idea. You can subscribe to the roadmaps feature, where you can share plans and make product announcements. 
You can integrate this idea management software with third-party apps like Azure, Slack, Jira, and Google. It also supports both agile and scrum workflows, allowing users to create all kinds of roadmaps. 
As for pricing? They have two plans: 
Ideas Essential:

$39 per user, per month

Ideas Advance:

$59 per user, per month
Users can access a 30-day free trial, too. 
3. Asana
Asana is a popular and highly rated project and task management tool, according to Gartner.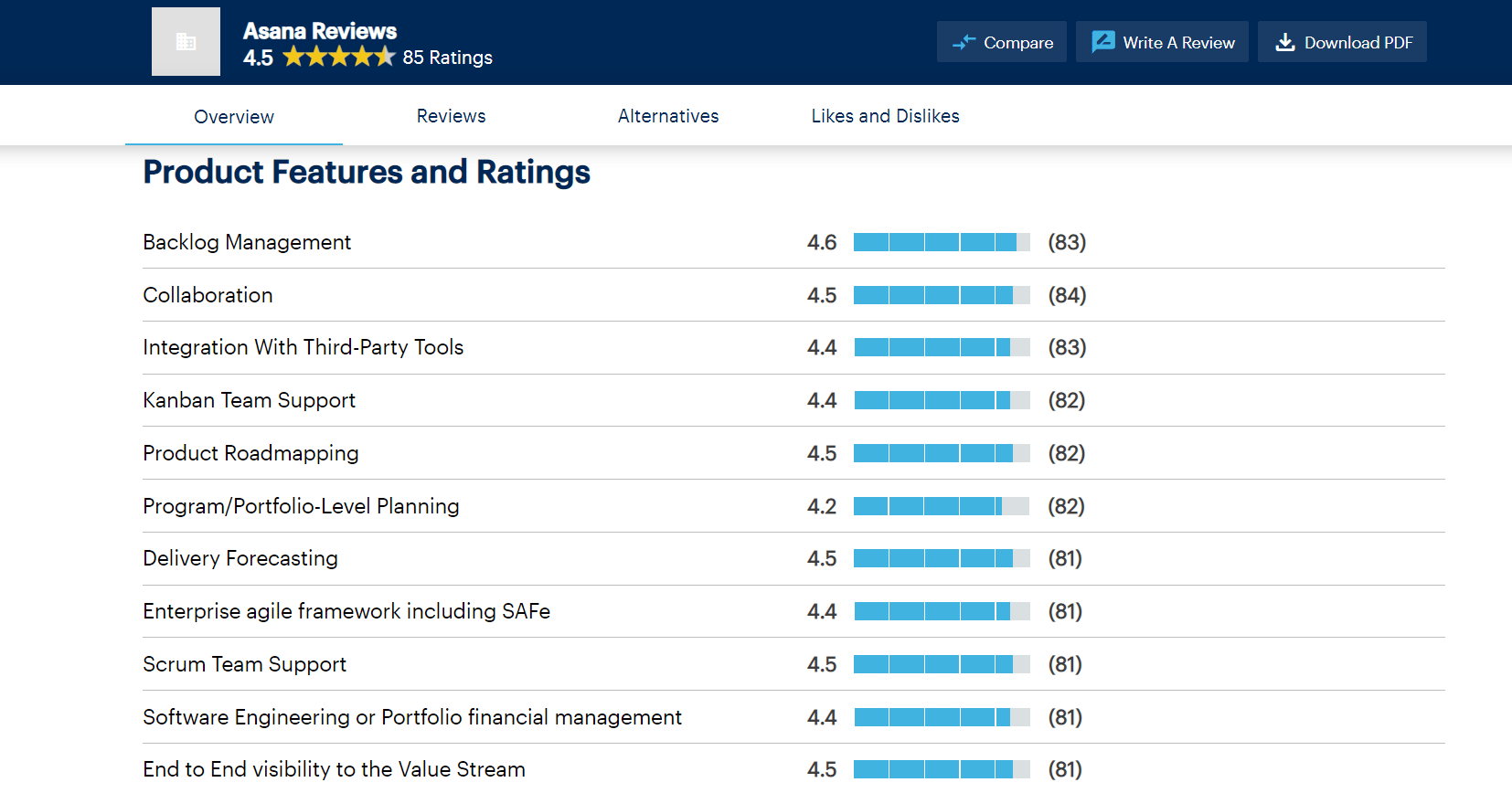 It helps teams communicate with ease, exchange ideas, share documents, and stay up to date with all the team's changes and activities.
Plus, features like document management, ready-to-use templates, task management, reporting, and automatic notifications let users unleash their creativity. The software is compatible with a wide range of devices and offers integrations with hundreds of apps including Dropbox, Slack, and Google Drive. 
However, all these features contribute to a steep learning curve, which you should consider before purchasing a plan. 
Pricing: 
There are three pricing plans, with more features opening up as you move up the tiers: 
Premium:

$10.99 per user, per month
Business

: $24.00 per user, per month
4. Brightidea
Brightidea is a popular idea management software with a huge customer base of over 2 million users worldwide. The software helps collect, screen, evaluate, and develop ideas in product development. 
The software offers features like an idea box where employees can submit ideas, vote, comment on pictures, and track implementation. It also offers a mobile application that facilitates collaboration between teams at any time. The software also has a native whiteboard feature that can help you brainstorm and has stickies that you can use to take note of suggestions for new products. The whiteboard feature has markers and pens that team members can use to better illustrate the ideas. The software also offers various templates to make brainstorming a breeze.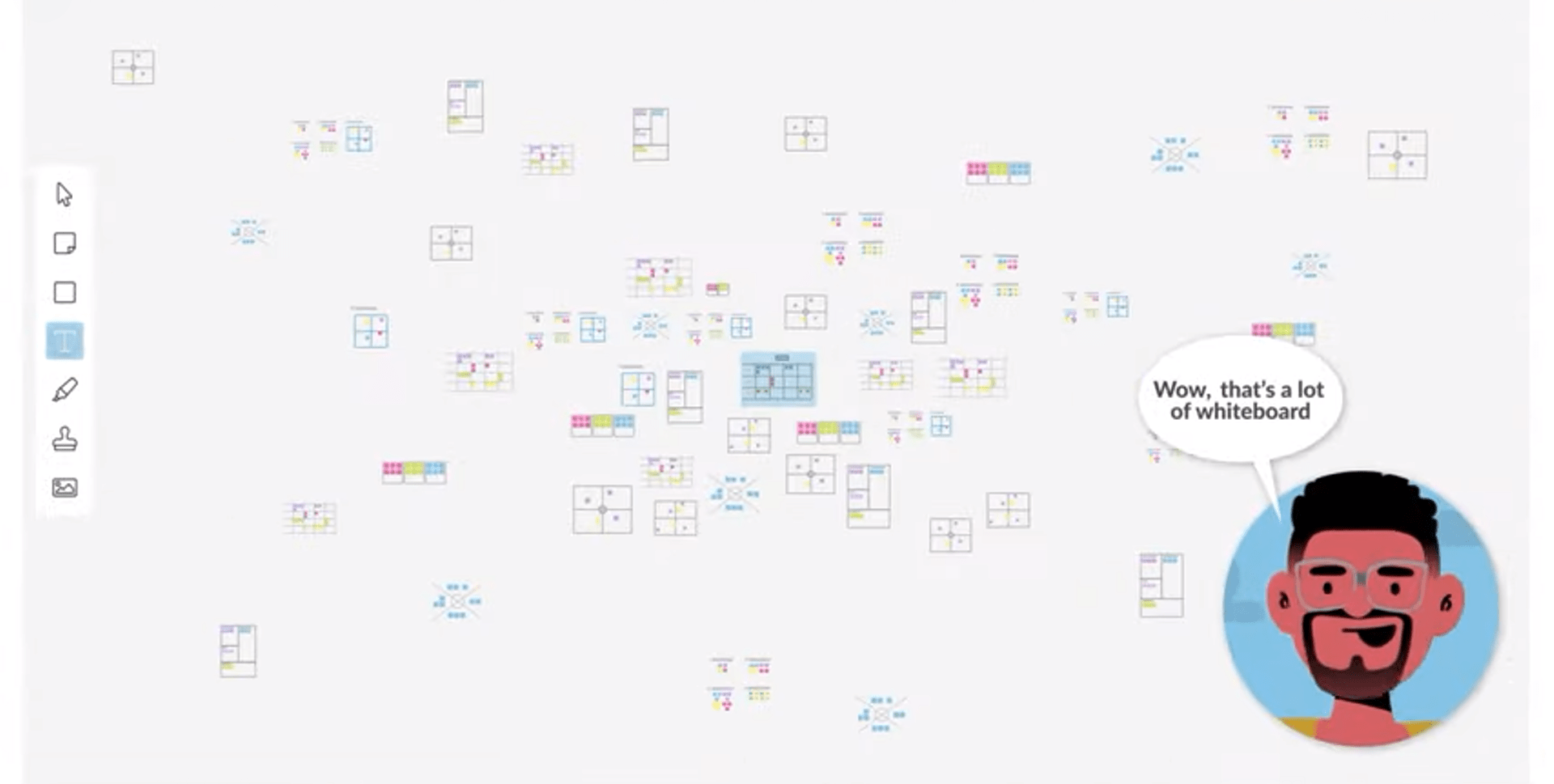 Brightidea also has a lab feature that facilitates design research for new products without the need to install a separate PLM platform. Further, Brightidea also offers integrations with various systems including but not limited to Microsoft Teams, Jira, Slack, ServiceNow, CrunchBase, Azure, Alexa, Box, and Monday.com. 
Pricing: Custom quotes.
5. Edison 365
Ranked among Gartner's top 10 Innovation Management software for 2022, Edison 365 is an end-to-end idea and innovation mana
gement software built for enterprise-level businesses. The cloud-based platform runs on Microsoft 365 and enables organizations to capture, develop and commercialize ideas. 
Edison 365 has a whole suite of systems including Edison 365 ideas, which helps manage the entire innovation process from idea generation to implementation. The system offers a Kanban-style board with a holistic overview and a scoring matrix that lets you score and rank each idea to prioritize them.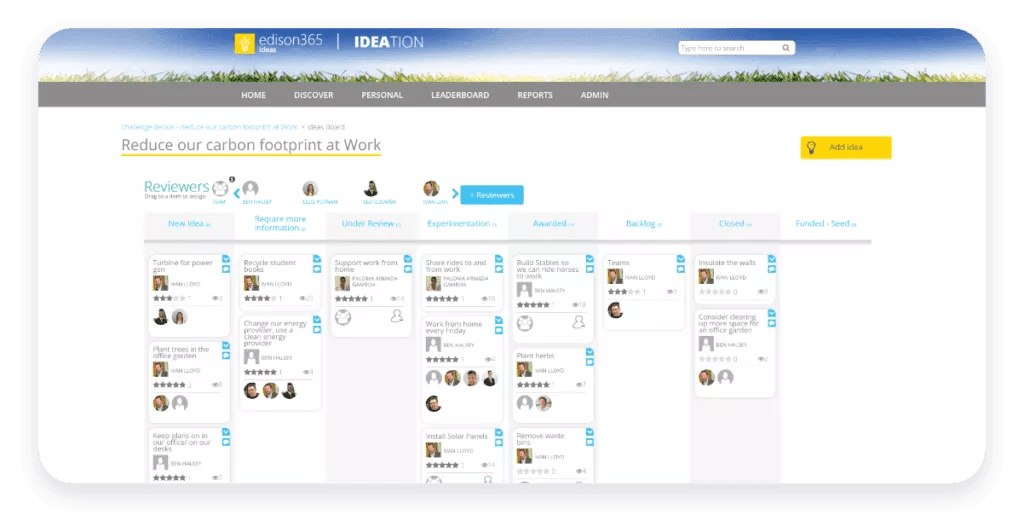 Other features include:
Idea crowdsourcing

Ability to comment on other's ideas

Collaboration with Microsoft365 systems

Gamification features to engage employees

Powerful reporting 

End-to-end integration with Edison 365 suite 
The system is great for teams that already use Microsoft products, but not for teams who don't. You'd have to tackle a learning curve and invest in Microsoft365 and multiple Edison365 products to achieve full functionality. 
Pricing: Not listed. 
6. Coda
Coda isn't your traditional idea management software. It's a collaborative text editing system with multiple functionalities in one platform package. Users can organize information, create detailed documents and manage knowledge bases in structured and easily shareable documents.
Like an ideal idea management software, Coda lets you take notes, set OKRs, share and vote on ideas, and even have discussions.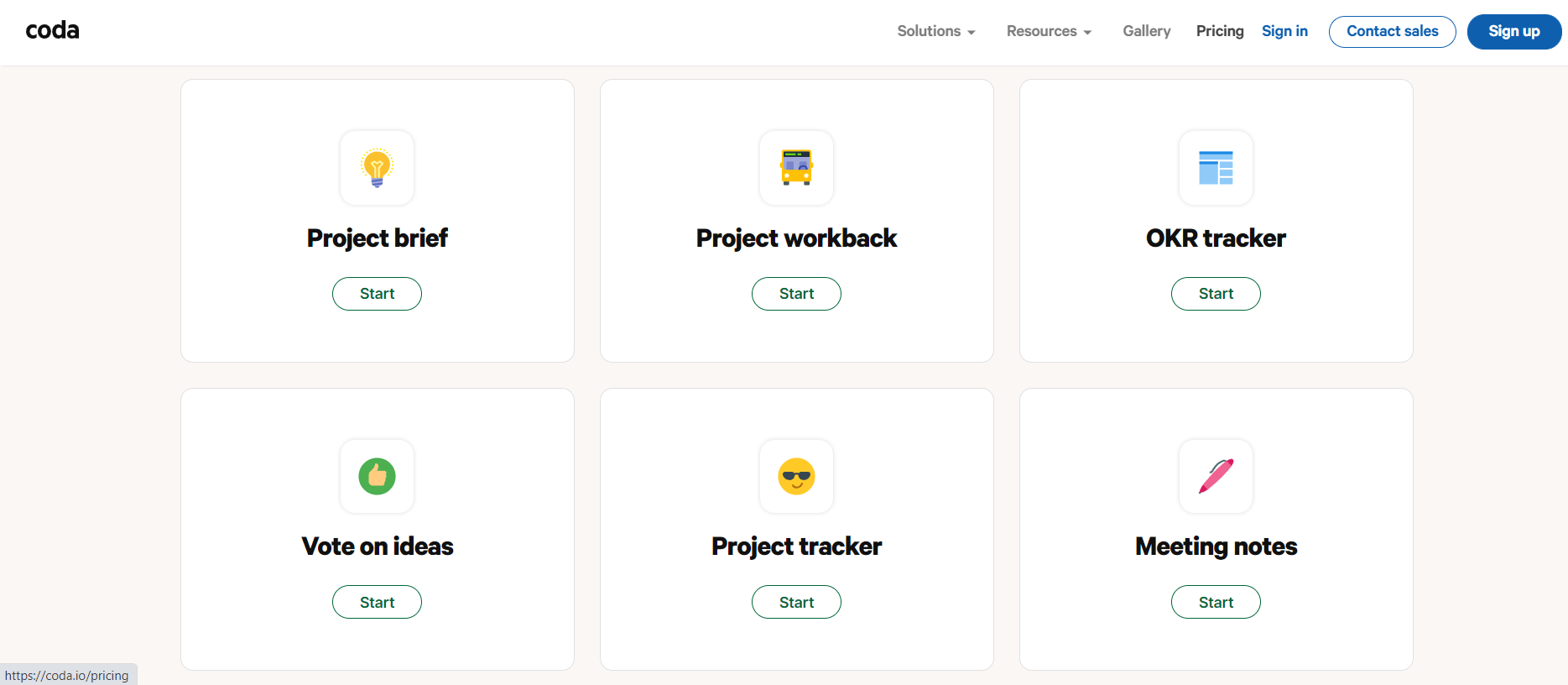 Its project tracker template features a Kanban board for bird's eye project views. The visual, structural, and formatting features are appealing and easy to add and modify.
Despite Coda's visual appeal, the modular approach could make the overall management of the idea funnel tricky.
Pricing:
Basic:

Free

Pro:

$10 per user, per month

Team:

$30 per user, per month 
7. Ideanote
Ranking first on G2 with a 98 satisfaction score, Ideanote empowers your team to easily develop and implement new ideas. The web-based software helps people prioritize and dive deeper into every aspect of the idea management process. 
The software is more like a central hub, where anyone can present, discuss, and analyze ideas. Ideanote offers integrations with dozens of systems including other popular idea management, analytics, and CRM software. 
Ideanote also lets you create several missions, ideas, and projects. Even better, it helps you launch ideas for new processes, solutions, and products in a matter of seconds. You can share all missions using links or email invites, and even identify your company's top innovator.
The software offers automation for repetitive actions and has mention and comment functions to assign teams ideas. Organizations can also have dedicated team folders to manage departments and topics by category. 
Ideanote offers multiple ways to view, sort, filter, and rank new ideas — a key advantage. The software strives to source ideas from various stakeholders and customer feedback from different areas of the web. The only drawback is the steep learning curve, given the difficult navigation of multiple features.
Pricing: 
Basic (10 users): Free
Organizations with 15 to 2500 users:  $49-$1249 per month. 
8. Idea Drop
Targeting large enterprises, Idea Drop is an intuitive idea management software that helps users discover, evaluate, refine and execute ideas from their users. 
The collaborative innovation software uses a combination of crowdsourcing, gamification, communication, and evaluation systems to help teams organize ideas in a clear pipeline.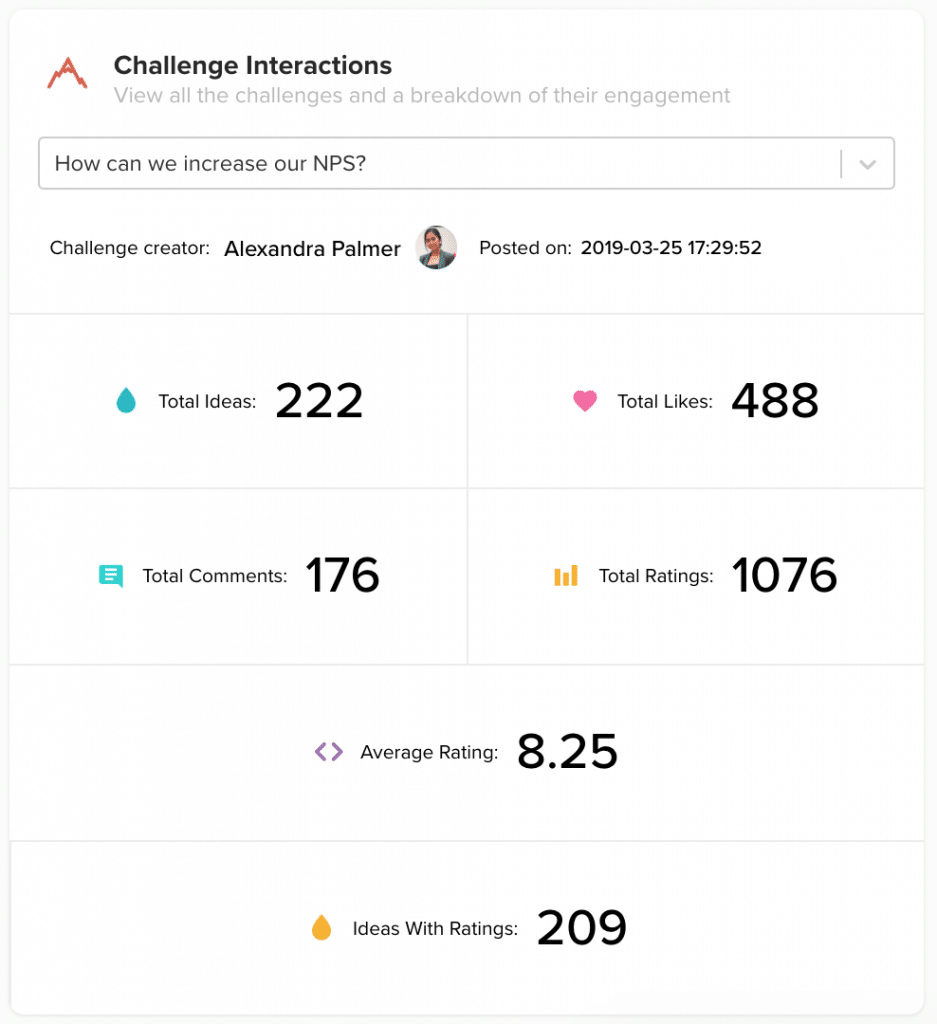 The software offers smart search to filter ideas, real-time reporting, and automatic idea ranking based on a proprietary algorithm. Ideadrop also fosters collaboration by adding mentions, hashtags, comments, link sharing, and real-time notifications to close the feedback loop. You'll also enjoy task management features like deadlines, scores, and a point system. 
Pricing: Custom pricing.
9. Planbox Innovate
Built for teams of all sizes, Planbox is recognized by Forrester Wave as the top innovation management software in 2020. This cloud-based AI-powered agile innovation software helps users innovate consistently and experiment cost-effectively while managing their entire innovation pipeline and portfolio.
You can tailor the platform to your organization's needs. Additionally, the modular platform enables a complete life cycle of Innovation Portfolio Management, Emerging Tech Empowerment, and Ecosystem Enablement.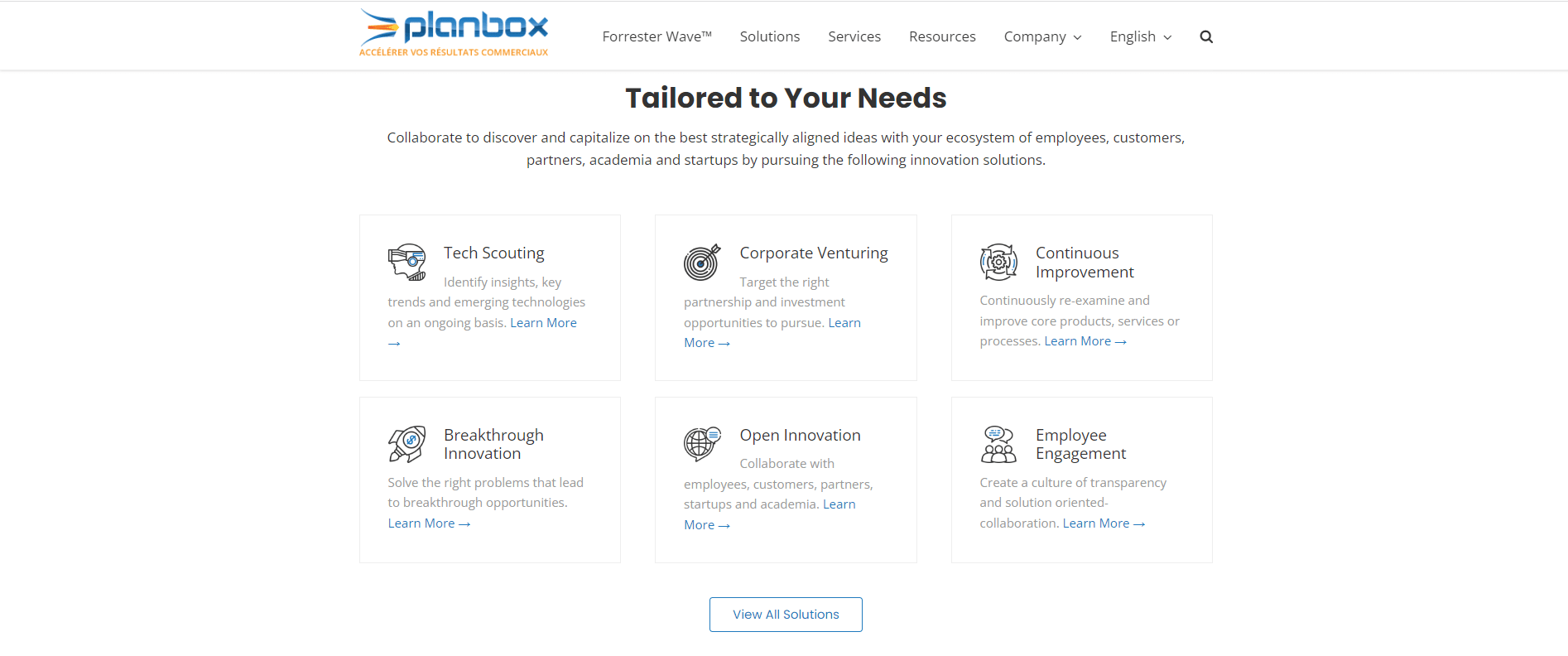 Key features include polls and voting to prioritize ideas, and status tracking to stay up to date with new initiatives. The agile approach to innovation encourages continuous improvement and provides a central place for both product and service management. 
Multiple industries can use the combination of systems; however, users will need to adopt multiple Planbox products to follow ideas through their entire lifecycle — an extra investment, and drawback. 
Pricing: Not listed.
10. KICKBOX
KICKBOX is an end-to-end solution for employee engagement, idea management, and idea execution. 
The system works bottom-up by tapping into employees' distributed knowledge allowing them to validate raw ideas. 
At the same time, advanced analytics and automation help to scale the program and track progress. KICKBOX consists of the following key elements that contribute to its success: 
An online platform, a marketplace, physical system boxes, and an ecosystem of professionals. 
The physical system boxes make innovation tangible, gamified, and fun whereas access to handpicked KICKBOX coaches for the users makes the process of innovation even better.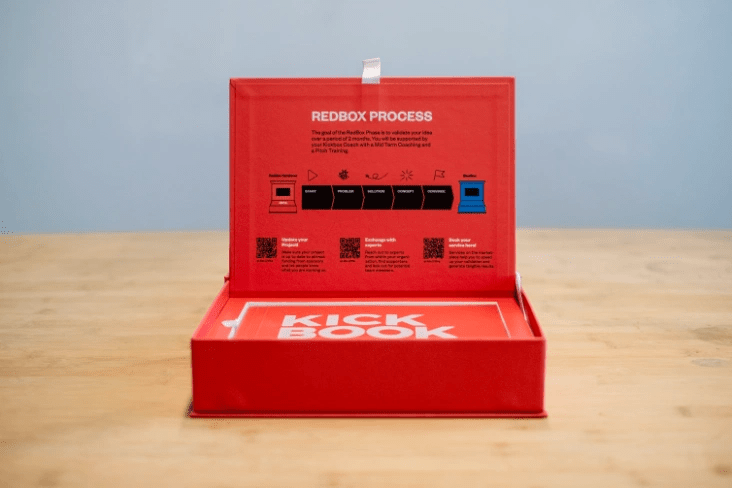 KICKBOX also offers various downloadables or systems, which can help users come up with a convincing pitch to secure buy-in from decision-makers. Plus, you can also access a community of peers with whom you can exchange ideas, expand your expertise, and run cross-company collaborations.
Pricing: Pricing information is unavailable, but you can access a free trial version.
11. Planview IdeaPlace
Planview IdeaPlace is an innovation management software that automates crowdsourcing. The result? More time for you to prioritize and develop the most promising ideas. 
Ideaplace delivers a host of innovation management capabilities across multiple Planview solutions, like portfolio management, agile planning, or service automation. 
The IdeaPlace system alone offers idea management features like idea capture forms, automated idea evaluation by sending prioritized ideas to subject matter experts, idea ranking and voting, gamification, and analytics systems to identify key trends with rich reports. 
However, IdeaPlace is just one of the systems among a suite of systems by Planview. You'll need more systems for added innovation management capabilities. Unfortunately, Ideaplace offers no task management and brainstorming features.
Pricing: Not listed.
12. Viima
Viima is a complete innovation management software used by more than 15,000 organizations and is highly rated on G2. The platform enables users to collect and manage ideas from different stakeholders. Viima's board-based approach allows organizations to easily customize the system to their processes, offering an engaging user experience. 
Viima's basic plan is free for an unlimited number of users, and it includes a host of features including the ability to like and post ideas, gamification, visual ranking of ideas, tracking business impact, basic analytics, and a mobile app.
Its premium version includes features like idea evaluation, pre-moderation and IPR protection, and multiple integrations with systems like JIRA, Teams, and Yammer. 
The only drawback is some of the premium features are not available in the basic free trial version of the system, which is available on the free version of other idea management software.
Pricing: 
Basic:

Free for unlimited users 

Premium:

Starts at $6 per user per month. 

Enterprise:

$1999/month, unlimited users and boards
13. Sideways 6
Sideways 6 is an integrated idea management software for enterprises (organizations with over 1,000 employees). Instead of having a dedicated idea application, the system listens to ideas shared on existing systems and apps like Microsoft systems, Yammer, and Facebook Workplace. 
 If you don't use any of those, Sideways 6 also allows idea-sharing via an online form. Once collected, ideas are fed to a pipeline to be qualified and categorized, Then, the best ideas are shortlisted using crowd and expert review. 
You can convert these ideas into projects and update employees. Moreover, Sideways 6's analytics systems can be used to identify key trends, understand business impact, and generate reports to calculate ROI. 
Pricing: Not listed. 
14. MangoApps
MangoApps likes to call itself an all-in-one employee app that provides systems for all employees and leaders to connect and feel empowered.
The software allows targeted updates, surveys and polls, and gamification and shout-outs, which helps leaders recognize stellar employee performance. 
The user-friendly and infinitely customizable approach fits into any way a company does business and creates a single digital hub that bridges the gap between office and remote workers. 
Employees can communicate and collaborate seamlessly with a customizable widget-based dashboard that serves as a central hub.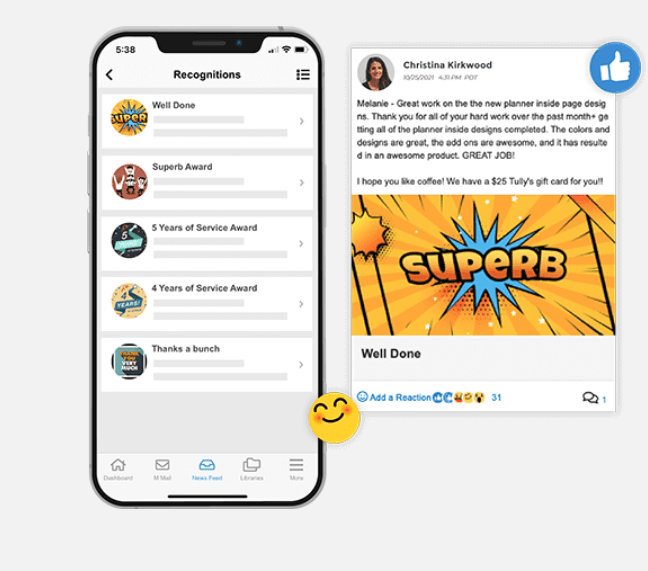 The platform is extremely user-friendly, with an interface based on modern social media, with threads, comments, emoji reactions, and team and project groups. 
Pricing:
Tiered, with the fourth tier containing the most advanced features. No pricing figures are listed. 
15. Craft.io
Craft.io is a product lifecycle management software with plenty of idea management features. The perfect user is a product manager or product officer, as the software allows easy collaboration and communication between product design and development teams.
Its prioritization feature ranks new ideas and executes them based on urgency. Furthermore, the capacity planning feature (sometimes referred to as workforce management) ensures you have enough human resources to deliver new products on time.
Craft.io also has a strategy roadmap feature to help you visually monitor product development and ensure that the features of your new product utilize ideas submitted by team members. You can also use this road mapping feature to visualize how your new product will affect objectives and KPIs.
Its strategy roadmap provides collaborators with a private space to communicate to follow up on their ideas and suggested features. The systems also offer integration with other collaboration and idea management software like GitLab, Dropbox, Jira, Zapier, and Pivotal tracker.
Pricing: 
Essential:

$39 

Pro:

 $89

Enterprise:

Custom pricing upon request.
Choosing the best idea management software for your organization?
The best idea management software for you depends on your organization's unique needs and gaps. Think about your biggest obstacles to idea management and assess each platform for its solution. 
You might consider: 
Ease of implementation

: How long does implementation take, the complexity of the implementation, training requirements, and the number of people for ongoing program management?

User experience:

How easily can users learn the process and functionality of the platform and will the experience encourage users to come back? 

Collaboration

: Is the program encouraging collaboration or new engagements? 

Efficiency:

How effectively can users share ideas and the idea funnel be managed?

Value

: Does the system make it affordable for employees to participate, is there direct alignment between the value created and the costs, does it result in out-of-the-box ideas and create a sustainable culture of innovation?
The truth is, we designed our software with these in mind, so be assured you will have a successful innovation program and employees who feel a greater sense of community and are more valued by the company.   Don't put it off any longer.  Foster Innovation ASAP!™
Want to know more about how InspireIP works? Send us an email at enquiries@inspireip.com for a demo.