Only a few days back, while learning about who drives innovation in organizations, I was re-introduced to a CIO's role in innovation.
You see, my dilemma was how a Chief Information Officer (CIO), who is prominently involved in leading the IT department, data monetization, and digital transformation, is responsible for overall business innovation.
Isn't that the forte of R&D departments and innovation departments, or more specifically, Chief Innovation Officers?
However, since InspireIP partners with innovation leaders and people responsible for bringing change, I was inspired to dig deeper into a CIO's role in innovation.
Here's what I discovered.
CIO and Innovation
If you asked anyone in the early 2000s about whose role they would discount from the C-Suite, the answer would be that of a Chief Information Officer (CIO).
But today, the fact is that CIOs are becoming the Chief Innovation Officers of their organizations and enabling innovation to grow and thrive. Besides leading the IT and digital transformation initiatives, they are the strategic partners to other C-suite executives.
As per a new study by Foundry, 85% of CIOs believe they are becoming a changemaker within their organization, and their role is transitioning to be more digital and innovation-focused.
This change in the CIO's role in innovation initiatives is most likely the result of economic uncertainties, the rise of new technologies, and market upheaval globally.
So, innovative companies, such as Amazon or Netflix, are making the best out of the expertise, leadership, and skills of a CIO in generating higher ROI. And companies or stakeholders that are still leaving CIOs out of the innovation discussion are taking a step back from their sustainability every day.
In a CIO-led organization:
Technology plays a prominent role in driving Innovative initiatives
A methodical approach is introduced to innovation
CIOs partner with the R&D group to operationalize all the product and service innovation
C-level executives work with CIOs to develop and execute strategic innovation initiatives
The advisory firm Grant Thornton and the Technology Business Management Council declared in its CIO survey that the CIO role is becoming more critical as technology becomes increasingly ingrained in all aspects of business and consumers' lives.
How exactly does CIO's role in innovation help drive success?
Things today are moving too fast, and the difference between successful and unsuccessful organizations is their innovation velocity.
Therefore, almost every organization has an innovation-focused department.
But still, according to a Deloitte survey, only half of innovation efforts achieve their desired value.
Let's go back to the basics to understand better.
Innovation is basically disruption in the form of a new product, service, process, or strategy, and change is intrinsic to innovation. Companies have the choice to either disrupt or get disrupted. The top-tier organizations obviously choose the proactive approach rather than the reactive approach to innovate.
Management teams of these top-tier organizations have noted the CIO's role in innovation. They know how to bring processes, people, and technology together to generate a better ROI for their company. Eventually, CIOs are at the forefront of business transformation, innovation management, and idea management.
All in all, it is their responsibility and burden to ensure their company is innovating, making a profit, creating value, and disrupting the industry.

Here are a few aspects from the innovation playbook of a successful CIO.
More Programmatic and Focused Approach
To put the innovation DNA in their organization and help it stay relevant and sustainable, leading CIOs take a proactive, programmatic, centralized, and innovation-focused approach.
They take one challenge at a time and include every talent in the organization to solve it in a systematic and programmatic way.
Here are two instances of one-off projects that InspireIP's clients took for their internal business challenges.
Instance #1
Problem
Our client was moving to a new building with its entire workforce. The CIO wanted to give employees free rein and submit their ideas for the improvements and new aspects they'd like to see in their new office.
But the problem was that traditional crowdsourcing was just too hefty, unorganized, and time-consuming.
Solution
They used InspireIP's idea management software to run a company-wide innovation challenge and to capture, scout, evaluate, validate, and implement ideas.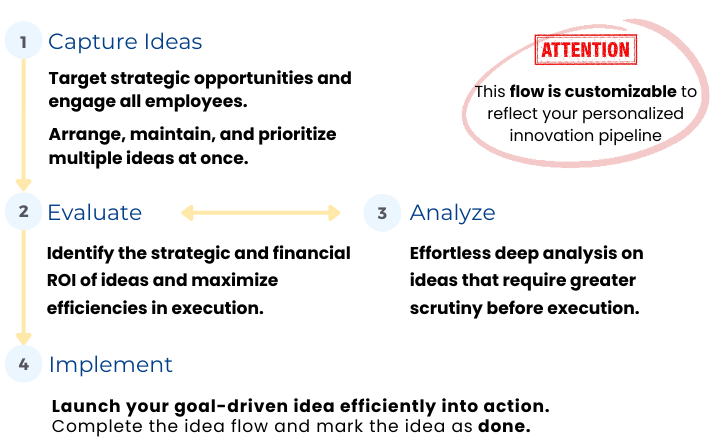 It successfully resulted in:
Hundreds of ideas for the new processes, elements, and creative products
Understanding what was bothering and demotivating employees at the previous workplace
An idea repository that the IT leaders can use today and tomorrow
High participation level
Employee motivation, engagement, and appreciation
Swift implementation of ideas that required immediate attention without compromising the quality assurance
Idea sharing by employees at any time, anywhere
Tool
Instance #2
Problem
The CIO of a law firm was distraught about the obsolete processes being followed for invention disclosure and patent filing. There was no structure, accountability, or transparency in the process.
Inventors found the invention disclosure system cumbersome and avoided the relentless review process.
Solution
They introduced an all-in-one invention disclosure system to remove innovation barriers, such as passe methodologies, collaboration barriers, immediate aversion to the obsolete to-and-fro, and so on.
The employees and stakeholders could now:
Work on an impactful invention disclosure
Collaborate like they are chatting on a social media platform
Do away with the traditional time-consuming email communication
Trace every data shared, feedback, file, and so on
Engage in a productive evaluation process and communicate openly
Add as many disclosures as they'd like in a centralized platform
Tool
In a nutshell, industry and technology are constantly changing, and in the end, aligned and inclusive innovation strategies by technology leaders like CIOs are driving change in the organization.
Demonstrating Inclusivity and Diversity
That innovation results from the collision of ideas is a well-known fact. And, no matter how much technology develops and the number of technologies arriving on the platform, technology will always be a facilitator of change and innovation.
It's people who drive innovation and change!
Therefore, CIOs collaborate with cross-functional teams and various verticals to capture ideas and innovation company-wide.
Chief Information Officers drive the innovation agenda by fostering a culture of intrapreneurship for their employees, not only for their own department but throughout the organization.
It enables them to facilitate high-performing talents, specialists, and generalists to create an inspiring workplace where people take charge of their ideas and projects and make a difference.
Tech leaders also look for opportunities to capture as many diverse perspectives as possible to look at the product, service, or process from new angles and potentially expose new problems and solutions in the process.
Breaking Traditional Conventions
It's a common belief that for people who innovate, innovation comes naturally to them. However, innovation is the result of ideas generated by individuals and acted upon by individuals.
But it's not that simple.
A structured innovation process and program are a must to ensure every person in an organization gets the opportunity to live their full potential. A holistic idea management process that provides the freedom to think, tinker, and associate. Because bad processes hinder innovation!
A proactive CEO who incorporates agile methodologies, therefore, is fundamental to establishing an all-employee innovation framework and activating employee innovation to create valuable business cases for the company.
Traditionally, organizations follow a hierarchical chain of command with a reactive nature and stiff processes that make them lose out on innovation-worthy ideas.
Encouraging Experimentation
Experimentation is the engine of innovation and will always be. However, when we talk about innovation at the organizational level, it becomes difficult to actually capture, validate, and implement ideas swiftly yet efficiently.
CIOs lead the innovation strategy by picking a central idea management system that helps them create an intrapreneurship culture with experimentation at its core. They ensure there is no stigma related to failures so individuals can come up with a plethora of ideas with no fear of embarrassment or feeling incompetent when implementation fails.
For example, InspireIP's platform enables you to develop ideas, conduct experiments and analysis to test their feasibility, and direct execution.
Encouraging experimentation may require reskilling or upskilling staff or uprooting the orthodox organizational culture to replace it with a sustainable innovation culture. And it's worth it!


Out-innovating the competition
The CIO invests in determining how the organization can use its technological prowess to outperform rivals. And makes their enterprise a perfect testbed for innovation.
Let's ponder for a moment.
Every company, sector, and industry is innovating and putting its best foot forward in the market and in front of the customers. Since every entity, even hospitals and hotels, are measured based on their outcomes, the need to innovate is high.
Even while picking a dine-in restaurant for having sushi, you go for the one that has higher ratings specifically for their sushi. Or, you'll pick a hospital care based on their surgery success rate.
Now, imagine you work in healthcare, your hospital will have to find better ways to innovate and outrun the competition.
You'll just have to be better.
That's where CIOs fit in. They establish agile ways of working, engage cross-functional teams for the purpose, and leverage digital technologies such as Artificial Intelligence (AI), Cloud Computing, and Big Data Analytics.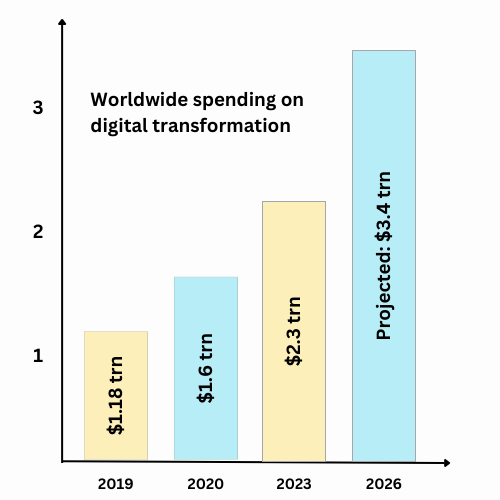 Responsibilities of a CIO: A Quick Look
To say that CIOs are the real enablers of innovation, who put people, processes, technology, and innovation strategy at the heart of business transformation would be an understatement.
Here's  a high-level overview of what are the responsibilities of a CIO:
Collecting data, protecting privacy, safeguarding from idea thefts, building systems
Engaging top talent and ensuring they take ownership of innovation-related projects
Partnering up with leaders and stakeholders across the company
Facilitating reliable and optimal technology architecture
Managing IT-related budget for purchasing and deploying technologies
Collaborating with employees across different verticals
Ensuring every individual gets the opportunity to share their ideas and experiment for the betterment of products, services, or processes
Picking an idea management software
Picking an innovation management software
Finding the best way to encourage high participation in innovation challenges
Leading employees to aim for patents
Streamlining the invention disclosure process
In Conclusion: CIOs are the New Innovation Enablers
Various research and studies prove that CIOs and their innovation management practices enable organizational internal and external capacities to scale over 15X the normal volume in a shorter span of time. (Only if they make the best use of technology, a professional tool, and an innovation program.)
Another reason why CIO's role in innovation and their leadership is so important for a company's innovation is because of the growing need for alignment between innovation strategy and business strategy. Plus, the complexity of technology and the increasing IOT demands a professional IT leader who knows how to manage and integrate the workplace, data, IT infrastructure, security needs, and integrity of their organization.
Simply put, in the near future, every organization is going to be driven by CIOs. Innovation leaders and successful companies just have a head start.