Idea management software are finally gaining the much-required attention, and rightly so.
To be precise, the idea management software market is projected to reach $1.99 billion by 2027.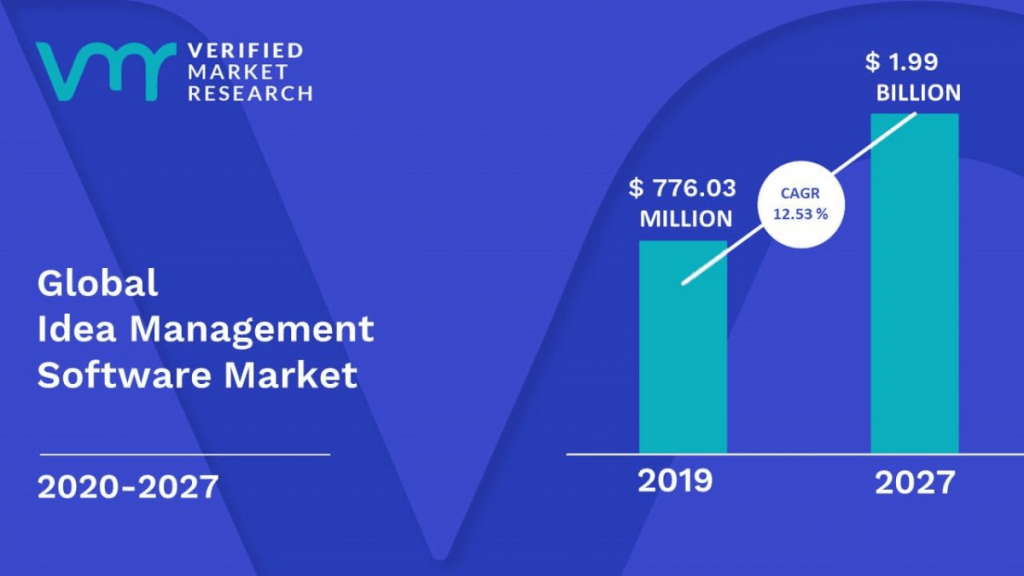 Source: Verified Market Research
Almost 13% CAGR!
Unquestionably, large, small, and medium-sized enterprises are, by application, acquiring business growth at a rapid rate.
Since you'd want to be an innovation leader yourself, you need to dig deeper into the concept and practice of such software.
But where to begin?
Here's a step-by-step guide for you to get started.
What is an idea management software?

How does the idea management system work?

Idea Management System Advantages

Where can you find the best idea management software?

How to pick an apt software?

Idea Management Examples
What is an idea management software?
Today, technology is no longer the driver for business transformations, just an enabler. People drive business innovation and success.
Therefore, innovation starts with ideas from individuals with diverse backgrounds and perspectives and becomes a way to diversify revenue streams for a company.
This is where idea management software fits in!
A professional idea management software is a centralized and structured system that facilitates:
Capturing ideas systematically at a large scale.

Bringing in the stakeholders at the right time.

Prioritizing and evaluating ideas for swift implementation.

Triggering a smooth and continual idea flow across the organization, even if the team is scattered across multiple bases.

Implementing directly or after a deep analysis.

AI-powered idea development.

Collaborating and discussing effectively.

Fostering an innovation culture.

Collecting ideas related to an ongoing or particular business challenge.
How does the idea management system work?
Although every software offers a unique process flow, the software with the least complexities yet powerful functionalities nails the innovation process.
And a robust software workflow includes the following stages:
#1 Capturing: Idea submissions by individuals
Idea management software facilitates idea submission from anywhere at any time. These ideas can be:
For tackling a specific problem in a company

To identify a new solution

An intrapreneurial endeavor of an individual within the organization
A central system makes collecting ideas simple.
#2 Evaluating: Looping in Stakeholders for Pursuing
At this stage, key stakeholders are looped in to identify the strategic and financial ROI of ideas and maximize efficiencies in execution.
An idea management software enables users to choose the team they'd find apt to evaluate their ideas. Ideas chosen to be pursued are further reviewed by the analyzing team for quality assurance and greater scrutiny.
Eventually, evaluators decide whether to pursue or discard an idea or send it to the implementation stage right away. Professional software smoothens the entire process.
#3 Analyzing: Deep Analysis through Collaborative Efforts
Because some ideas have a greater value that requires collaborations, updates, discussions, and live communications, an idea-sharing platform provides the means to do that.
And after an idea is fully developed and conceptualized, they are more likely to be implemented.
#4 Implementing: On Way to Tangible Results
Once collection, evaluation, analysis, collaboration, and upgrades are done, an idea is ready to be launched into action.
What's even best is that you have the option to track the live status of each idea in the system so you don't miss out on implementing an idea that requires immediate action.
Idea Management System Advantages
Apart from the widely known benefits of idea management software, such as new revenue streams, products, and services, there are more important advantages.
Advantages that transform the business from its core for the better!


#1 Scalability
Scale in terms of optimizing your:
Innovation program

Employee participation

Idea generation

Experimentation

Team building

Business needs and workforce

Product and services portfolio
#2 Cost Savings
Besides diversifying and increasing financial growth, idea management helps in cost-reducing innovations. An automated system enables companies to lower the cost of producing a product through:
process improvements,

building new solutions to customer problems,

improving supply chain management,

solving complex business problems.
#3 Frequency of Innovation
Traditional methods of generating ideas, such as hackathons, physical meetings, suggestion boxes, or reserved email addresses, render companies late in the innovation race.
However, an idea submission software empowers a company to run frequent innovation challenges to gather promising ideas and employees to add their ideas or suggestions at any time they'd prefer. Even if they are out of the office and it's 11 PM.
And since the software simplifies the idea workflow, captured ideas worth implementing are turned into reality immediately.
In short, crowdsourcing becomes organized, systematic, and regular.
#4 Engagement
Time and again, various studies have proven that talent requires a sense of ownership and a medium to ideate freely to achieve job satisfaction. 
Otherwise, the result is disengagement, low productivity, withering collaboration, and a high churn rate.
But having an idea software creates the ability to structure the innovation process and foster the intrapreneurial spirit that increases the retention rate.
Employees are provided with an innovation program integrated with best practices meant to:
Help them take on creative initiatives

Own their project

Try solutions they believe in irrespective of their designated position in the organization

Offer them resources, support, and recognition for their efforts

#5 Diversity
Innovators do not have a specific degree or department; a breakthrough can come from literally any individual. And a dedicated software captures diverse perspectives from across the organization or specific departments.
Consequently, it helps a company venture into new markets and enter a blue ocean.
#6 Collaboration at a large scale
An idea can only be profitable after it has been developed by working together through discussions and interactions.
And the idea system keeps an entire organization interacting and communicating towards anchoring strategic initiatives. It loops in the top management, middle management, and bottom-level workforce.
In fact, if a system doesn't facilitate collaboration, you might as well go with a traditional ideation process.
#7 Quality Assurance
Whether the idea submitted to the software is to optimize internal workflow, business processes, or for a new product or service, the automated software ensures thorough evaluation and analysis.
Essentially, idea management software enables processing a plethora of ideas swiftly yet without compromising quality.
So, good ideas are implemented quickly but not without due upgrades, discussions, and conceptualization.
#8 R&D beyond Specialized Departments
A digital tool present in an organization for ideation motivates every individual to put their best foot forward.
And it creates a culture of healthy competition.
So, when everyone wants to contribute their best, they naturally invest more time researching and finding answers or ways to come up with novelty.
It enables organizations to stay sharp and agile in the cutthroat market competition.
Even though organizations might have dedicated research departments, individuals pushing their idea campaigns through an ideation tool means higher growth for them.
They increase the quantity, quality, and frequency of innovative results.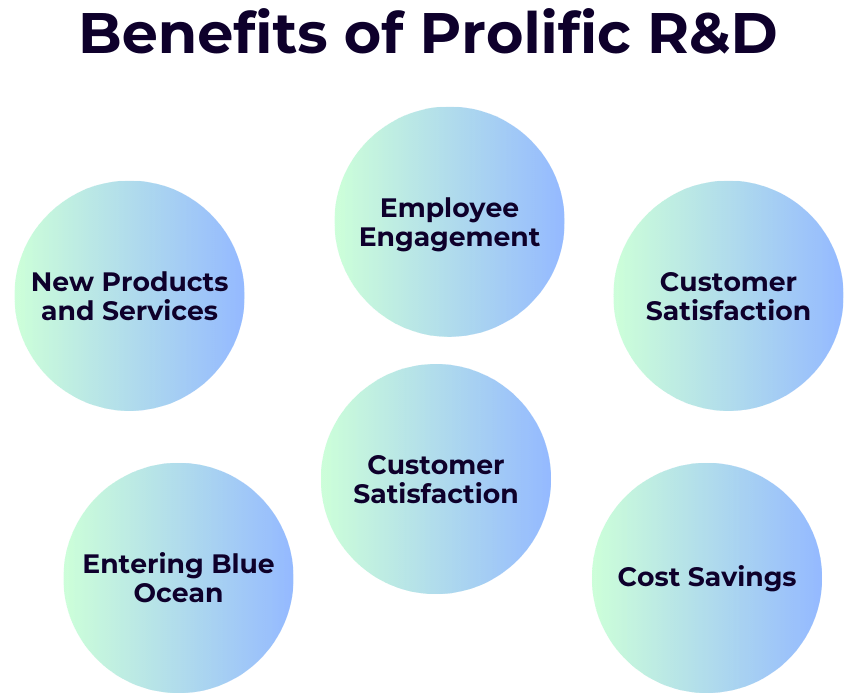 #9 Bottom-line ROI
The most obvious advantage of deploying idea management software is increasing your ROI.
Particularly, the tool helps you introduce and implement an innovation strategy best suited to your latest business endeavors and near-future goals.
And, it even enables you to switch your existing innovation strategy into a much more relevant strategy that suits your growing business needs and consumer demands.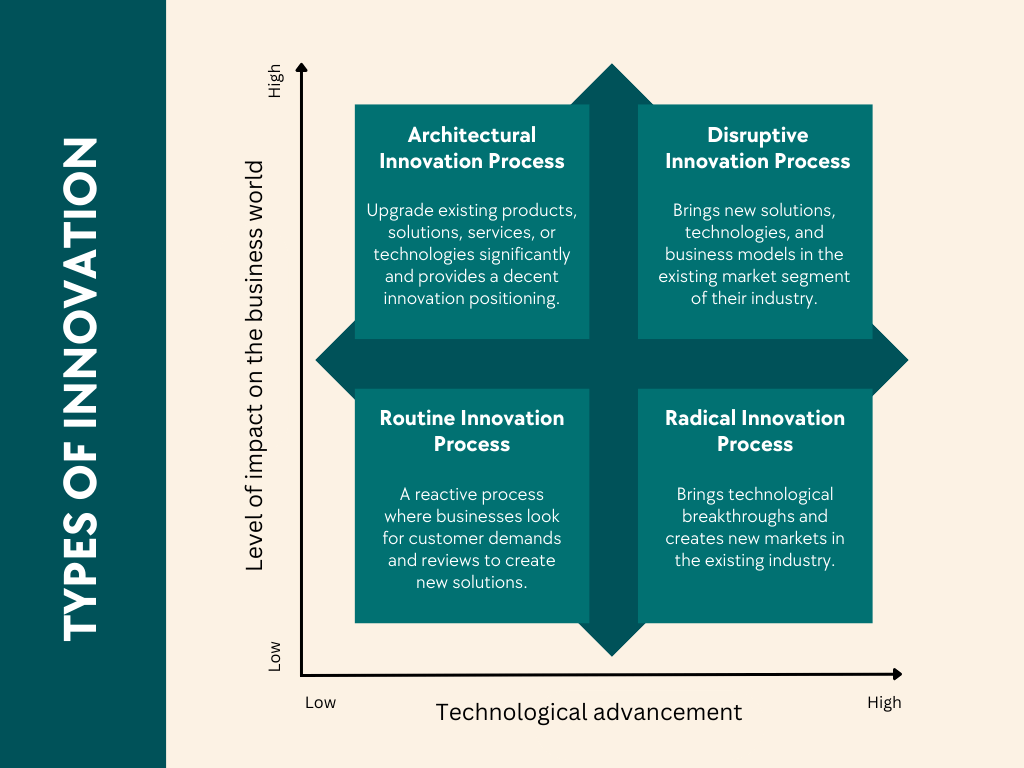 #10 Central Repository of Ideas
Another best part about idea software is that it creates a central repository, a database of ideas that companies can use today or in the future based on their requirements, preferences, and budgets.
Because it is a live database, it makes up for a sustainable idea flow process. And sustainable innovation is key to staying competitive and agile.
Therefore, idea software proves to be an infrastructure for an organization that supports goal-focused innovation at all times perpetually.
#11 Data-driven Decision Making
An idea management tool provides you with a dynamic dashboard and reports to gauge the real-time analytics of:
Ongoing innovation challenges

Each individual's contribution

Each team's contribution

Which challenge gained more engagement and participation and more
Straightaway, it helps you modify your innovation program accordingly based on real-time data. You identify the success rates and trends that suit the company best.
#12 Transparency and Accountability
As discussed above, top talent needs a sense of ownership to feel motivated and engage in innovative efforts.
It is interconnected to being responsible and accountable.
Often, people refrain from sharing their ideas due to fear of being judged, failure of acknowledgment, or fear of their idea theft.
Especially when idea theft is real! And lack of recognition breeds disengagement.
Whereas professional software enables an individual to come up with a project idea, take ownership of it, pursue it on their own or through collaboration with co-inventors, upgrade, and communicate freely with the stakeholders.
Their idea is completely theirs, and no one can contest it. Most significantly, their idea status till implementation is transparent and helps them track it. Meaning there's a clear recognition and post-implementation, the glory is theirs.
#13 No Duplication in Idea Management Software
The biggest challenge a company faces in innovation programs is duplication.
They receive similar ideas on a business challenge that makes filtering, evaluating, and executing time-consuming and complex.
However, a tool detects duplicates automatically and saves time and resources for the company as a whole.
#14 Quick Implementation, Quick Results
So far, we know that an idea management software:
Captures ideas from across the organization

Streamlines the evaluation process

Promises quality assurance

Facilitates collaboration
When all the pieces fit together compactly, it means a successful idea flows till implementation.
And the faster an idea is implemented, the quicker will be your ROI.
#15 Continuous Improvement
An idea management tool helps remove silos and establish an agile innovation framework in the organization.
It results in an incremental and ongoing improvement of products, services, and processes. You identify opportunities for breakthroughs and optimizations by utilizing your existing talent and the idea management helios in unlocking the full potential.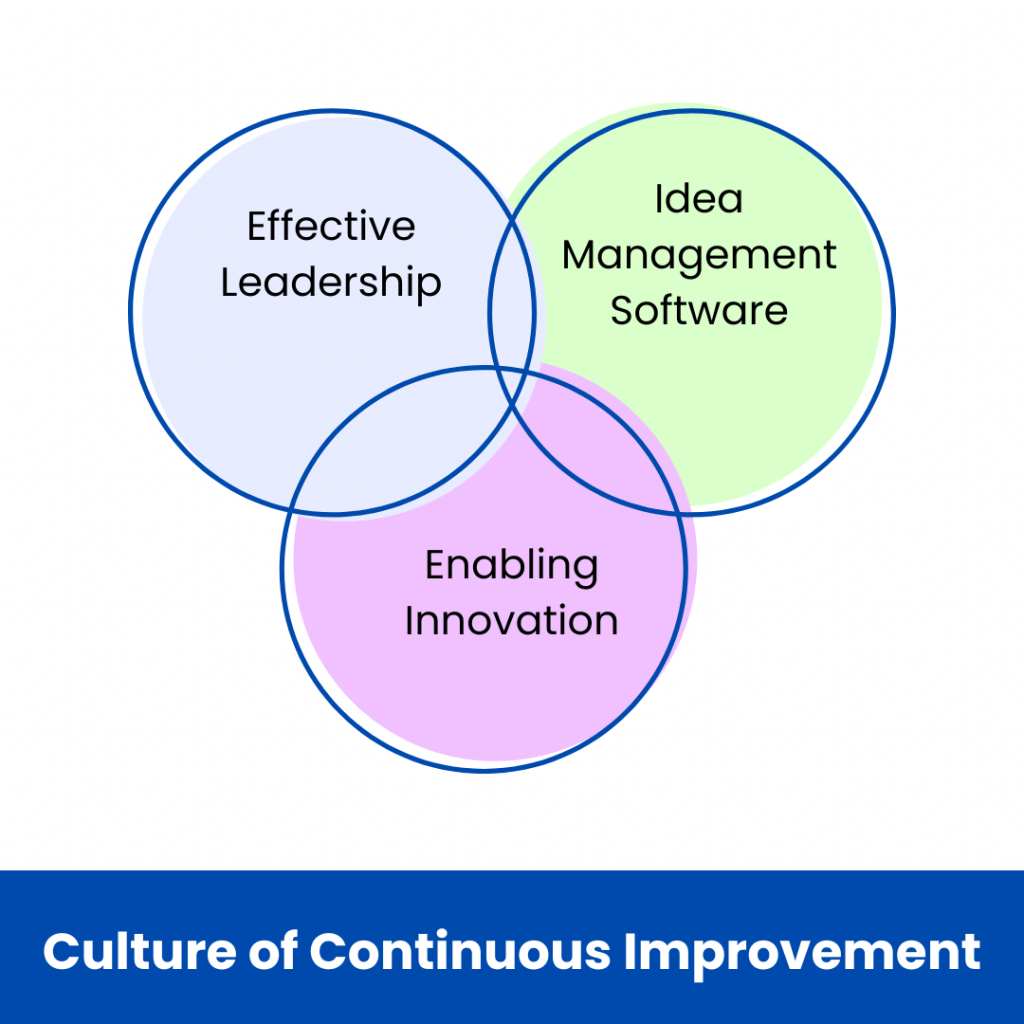 How to pick an apt idea management software?
The innovation management market is filled with software and systems. You need to ask the following questions before picking ideation software for your business.
Is your sensitive information handled securely and in compliance with data privacy regulations?
You must own your data! The company shouldn't use your data for personal monetization or expansion activities.
Is the company providing regular updates and responsive customer support for their software?
New updates, at least every quarter, ensure you get up-to-date UI, features, and functionalities.
Does the software follow accessibility standards?
Ensure you uptake software that follows accessibility guidelines to ensure inclusivity.
Do you need to spend resources and time to uptake an application?
Pick the software that requires minimal or no training costs and is easy to onboard, even for a large employee base scattered across multiple bases.
Do you need to procure infrastructure?
Prefer cloud deployment. It helps reduce operational costs.
Is the software multi-platform compatible?
You need a tool you and your team can use anytime from anywhere. Therefore, go for software that you can use on mobile, tablet, and laptop.
Do you have the opportunity to customize your tool as per your business requirements?
Ensure you get the software compatible with your innovation goals and business objectives. You must have the option to personalize your tool.
What happens to your existing data, structured and unstructured?
You must have access to a migration package that brings all the existing data onto the system.
Can you keep track of all the ideas in real-time?
You need transparency from idea submissions to implementation. No other way!
Does the software support Integrations with your existing tech stack?
Look for a tool that supports custom integrations with all the popular tools in the market.
Do you have access to analytics and reports?
You must be able to track the number of submissions, engagement levels, and the progress of implemented ideas.
Does the application enable you to discuss and collaborate on ideas?
You must have the option to share feedback and discuss profusely for successful conceptualization before implementing the ideas.
Is deploying the system going to be a lot of work?
The software must be easily deployable and require minimal IT work.
How long will it take to see tangible results?
The maximum period should be the first month of implementing the idea and innovation management software.
Does the system have a user-friendly interface?
There shouldn't be any technical barriers to submitting ideas. It should be intuitive.
Where can you find the best idea management software?
Not only software but a personalized innovation program to fit your innovation goals and business objectives. Here you go:


Idea Management Examples
A simple idea that made millions – Swan Vesta matches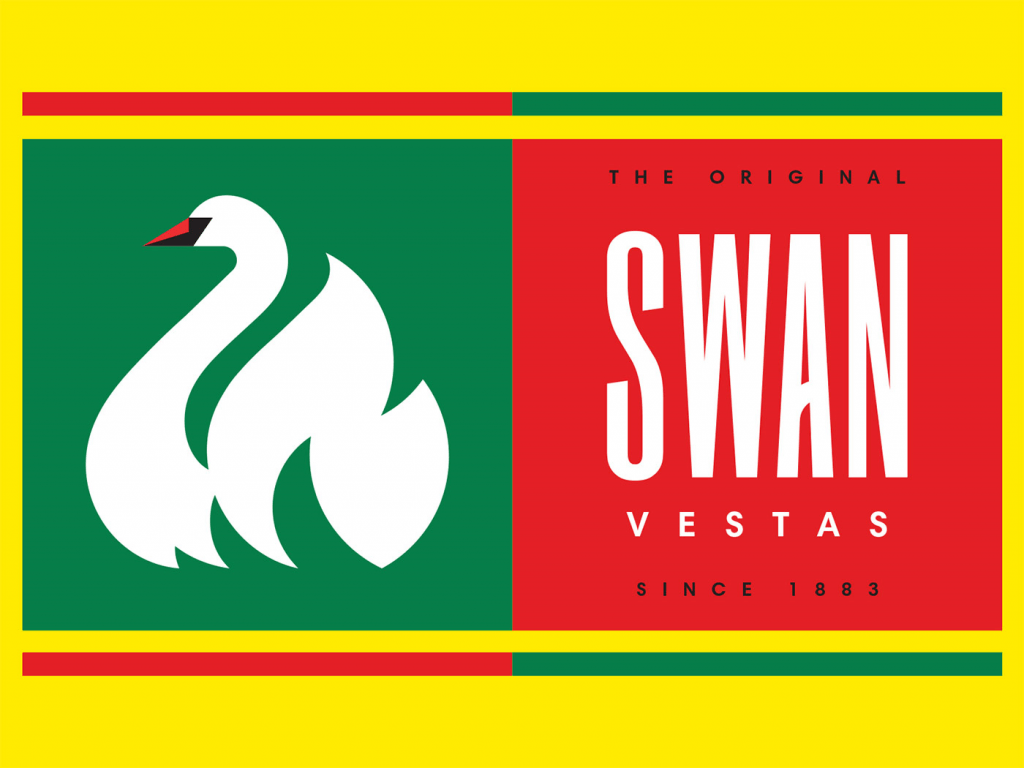 In the early 1900s, a factory worker approached the leadership of Swan Vesta with an amazing idea.
Although the idea was initially disregarded, the worker was given a few minutes to present his concept to the board.
A Guard's idea to store inmate photos differently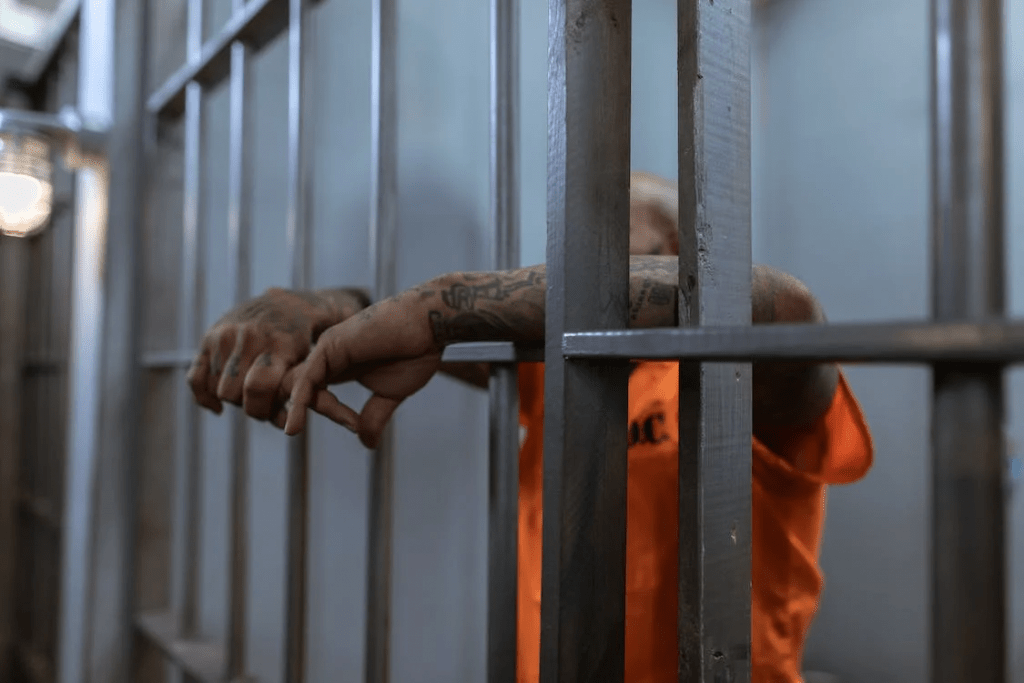 A guard at the Massachusetts Department of Corrections realized that the inmate photos were not stored efficiently. 
And he had an idea to save them digitally.
Although a prison may not seem like a place with huge innovation potential, the authorities still considered his idea.
Results? The department had 16 correctional institutions, and the idea of saving inmate photos digitally saved them over $56,000 on film in the first year of installation alone. 
AT&T innovation: What was the Idea behind the DriveMode app?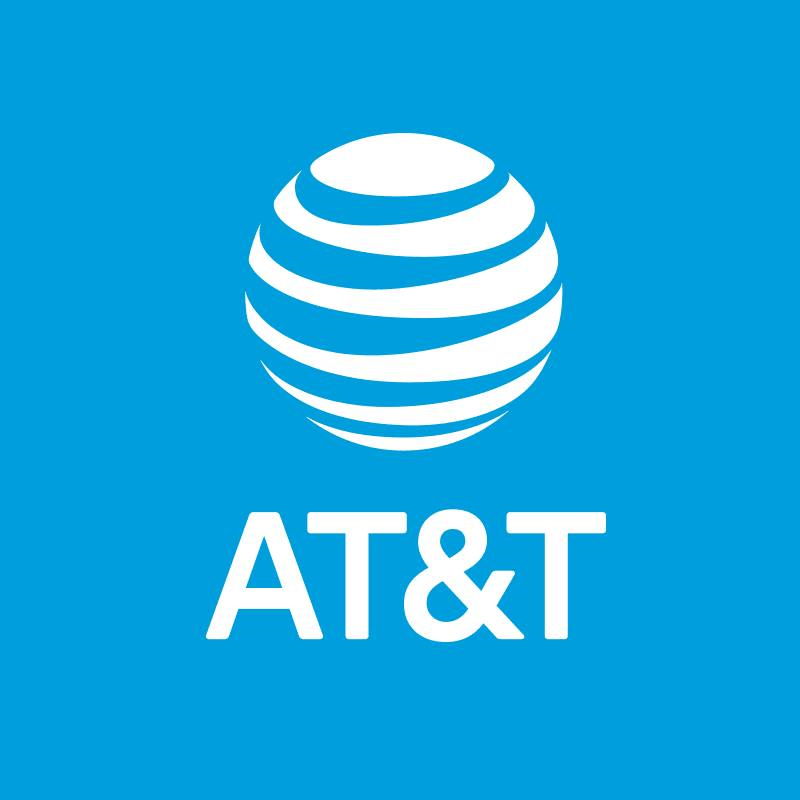 In 2019, over 50,000 ideas were submitted by 130,000 members from 54 countries and all 50 states, and over 100 projects turned into genuine products and services in AT&T.
One of the ideas that emerged from the innovation campaign was the idea for the DriveMode app.
One of AT&T's call center employees, who had been personally affected by texting while driving, came up with the idea for the app. The company's "It Can Wait" campaign was the app's cornerstone. 
Nike Innovation Strategy: The story behind Nike N7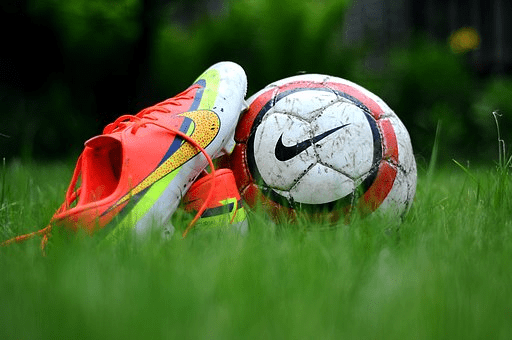 A citizen of the Sioux and Assiniboine Tribes, Sam was working in a Nike distribution center in Oregon in 1999 when he had an idea. 
Sam proposed a plan for helping Indigenous communities improve health and wellness through physical activity. 
Sam's energy was infectious, and a team of Nike designers offered to help create products in line with Sam's vision. The result was Nike N7 – a line of products – including the Nike Air N7 Native shoe – embodying the sustainability values of Native American communities, encouraging kids to get active.
Microsoft Innovation: Microsoft's entry into gaming console business with XBOX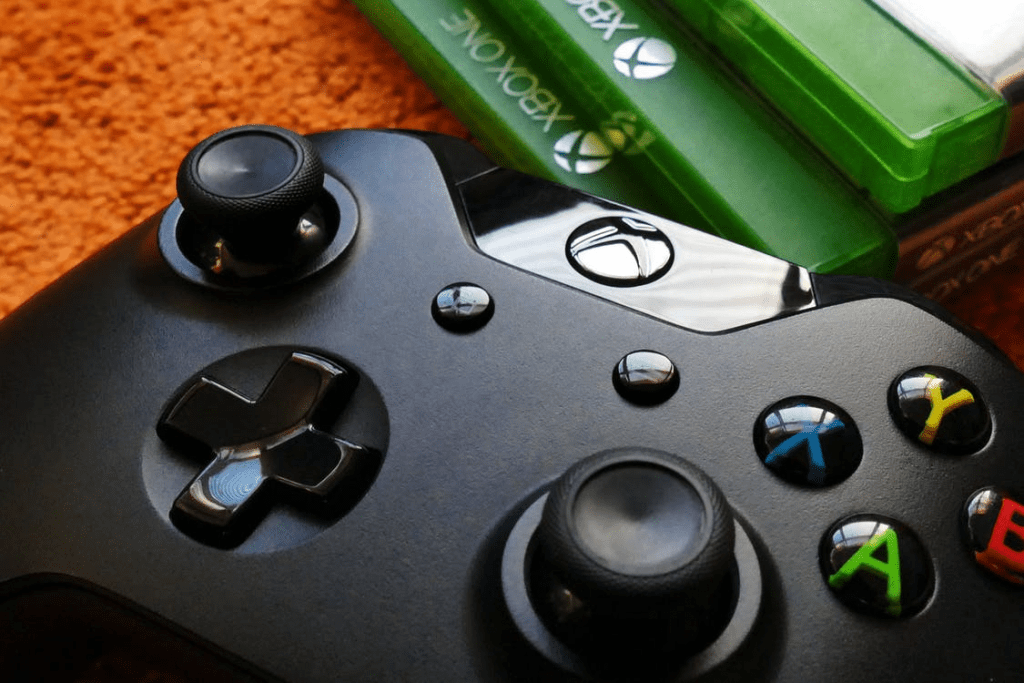 Seamus Blackley, a game designer, joined Microsoft in February 1999 to work on Microsoft's  DirectX. His last big project, Trespasser, a dinosaur-shooting game based on Michael Crichton's The Lost World, bombed in the market. 
He figured he'd keep a low profile as a graphics programmer, but you never know when the next big idea hits someone. 
While traveling on an airplane, he came up with an idea for a video game–Xbox. He quickly connected with three other engineers to create a video game console using personal computer technology.
TL;DR
Idea management software streamlines capturing, evaluating, analyzing, collaborating, and implementing ideas effectively. There's no other best method to reap in-house and business benefits.
Why do you need an idea management software? Because it offers the following benefits:
Scalability

Cost savings

Frequency of innovation

Engagement

Diversity

Collaboration at a large scale

Quality assurance

Prolific research and development

Increase in bottom-line ROI

Central repository of ideas

Data-driven decision making

Transparency and accountability

No idea duplication

Quick implementation, quick results

Continuous improvement
You must ensure you pick a centralized idea management system for your organization that supports YOUR business objectives and innovation goals.
Pick InspireIP's Idea Assist solution for your organization. Not only it offers the aforementioned benefits but a lot more. Book a demo to get your personalized solution.