The National Geographic Magazine ending came as a shock to some, while others felt it was long overdue.
The magazine's current trajectory is not a sudden digress. It comes after a decades-long struggle to keep up with the challenges of digital-age publishing.
However, we cannot call the magazine an utter failure as the epochal rise of digital media made National Geographic Magazine closing inevitable.
And the final nail in the coffin of National Geographic Magazine going out of business was the 2015 acquisition by 21st Century Fox. They would own 73% of the firm, while the National Geographic Society would own 27% thereon.
As Andrew Wilk, the first head of programming at the network, said, "As wonderful as it was to have these yellow magazines on our tables growing up, there's no need for them anymore."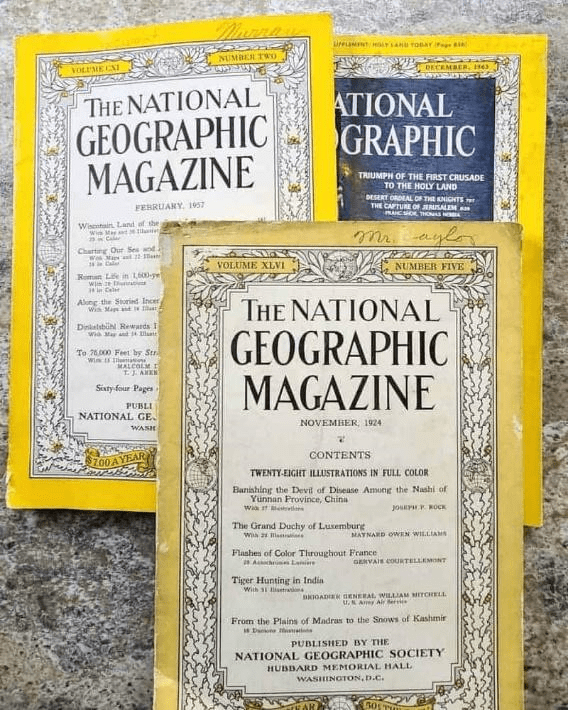 A dire need for innovation to survive
Rupert Murdoch, who controls 21st Century Fox, had a similar project in 2011—The Daily. But it was an innovation that failed within a year.
There are news articles filled with doom stories of such companies that met a similar fate, like Grazia, BuzzFeed, Vice Media, etc.
To avoid another setback, National Geographic's digital venture will have to ensure:
#1 Interactive Digital Content
As National Geographic plans to leverage freelancers for its digital publication, it needs to ensure the idea flow across verticals is effortless and effective. It will help the publication ensure they create immersive digital experiences dynamically.


#2 Community Engagement
National Geographic could introduce an online community forum that facilitates open communication, sharing stories, and discussions related to the content they publish. 
They can capture ideas and implement them right away for quicker ROI.
#3 Innovation Strategy and Program
It's impossible to thrive and stay ahead of the competition at the lightning speed of digital media. Since Nat Geo is entering a highly competitive market with endless competition arising every day, knowing the competition is crucial.
An unforgiving ecosystem calls for constant upgrades and business innovations and that is only possible by introducing an innovation program tailored to their specific needs.


#4 Multi-platform Support
Enable users to engage with their content on mobile apps, tablets, and desktops. Introduce interactive features and elements to the UI that retains user attention.
Multiple studies prove that digital media companies that provide access to their content on mobile and tablet devices have higher economic growth.
If National Geographic adopts platform-agnostic technology, it has a higher chance of getting a large user base.
#5 Convert Existing Readers
National Geographic will be discontinued in 2024. It's a fact. Yet the magazine is one of the most widely read magazines in the US. Doesn't matter how the number of magazine subscribers is dropping, there are still readers who love a hard copy of illumination of other worlds—space, wildlife, the ocean, and whatnot.
They must strategize to convert the annual magazine subscribers to their digital subscribers.
Only talent within their organization can help them conquer external arenas if they let them do so.


Was National Geographic Magazine worth saving?
National Geographic Magazine's ending has its pros and cons.
Pros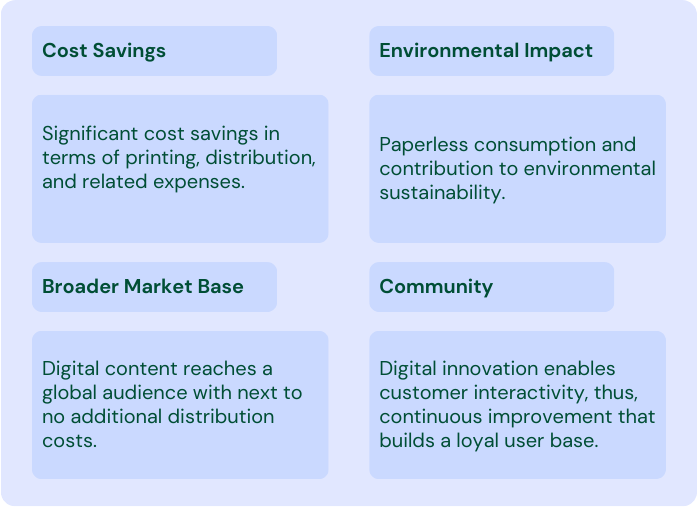 Cons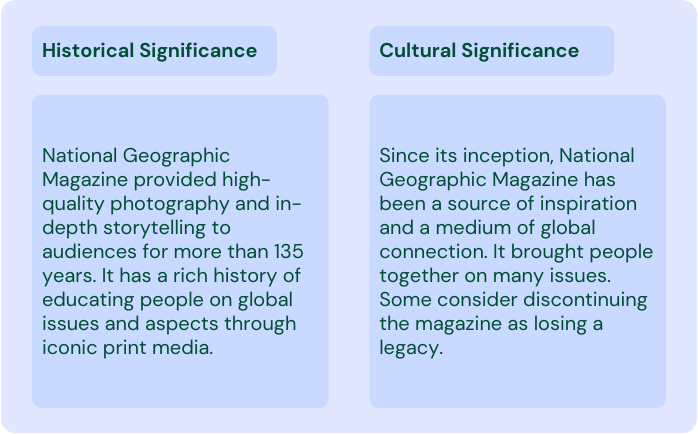 The search engines are full of stories about National Geographic Magazine layoffs. And the fact that by June 30, 2023, all the writers and editors were let go proves that the change is here.
The yellow-bordered publication has taken a leap to stay relevant and engaging in the digital age, but it is yet to be seen whether or not it succeeds.