About
Intel Corporation is an American multinational corporation and technology company headquartered in Santa Clara, California. It is the world's largest semiconductor chip manufacturer by revenue and is one of the developers of the x86 series of instruction sets, the instruction sets found in most personal computers (PCs). They are also renowned for developing the first microprocessor Intel 4004, an Intel innovation.
How has Intel encouraged intrapreneurship within the organization?
In 1998, Intel established an in-house "new business initiative" to bootstrap new businesses that employees propose, regardless of whether the concepts had anything to do with Intel's core chip-making business. The initiative was designed to provide financing for businesses that the company's own employees start.
This was in contrast to the venture capital program that Intel had in place for a decade prior to the establishment of this initiative. The goal of this initiative was to foster innovation and entrepreneurship within the company by providing employees with the resources and support they needed to turn their ideas into successful businesses.
When asked about the inspiration behind it, it was shared that:
"The idea for the whole thing came from our employees, who kept telling us they wanted to do entrepreneurial things. They saw that we were putting a lot of investments into external companies and said that we should be investing in our own ideas."
Craig Barrett, President and CEO of Intel.
Intel's new business fund was earmarked for non-microprocessor businesses. The initiative received tons of ideas from both Intel employees and outside entrepreneurs and made investments in the majority of them. 
Intel Innovation: When an employee came up with the idea of Vivonic Fitness Planner
One of the employees who benefited from this program was Paul Scagnetti, an intel engineer, who had worked for a couple of years developing chip-making processes.
Tinkering at home after working 12-hour days, he came up with a concept for a handheld computer aimed at helping people do just one thing: record and plan their fitness and nutrition data. Mr Scagnetti's idea was approved by Intel and he got to work on the project with a partner for nine months. Intel then gave him funding to hire 15 people and launch the product, the Vivonic Fitness Planner, in sporting goods stores on the West Coast. 
The road wasn't free from obstacles. He faced difficulty trying to recruit from within Intel as managers didn't want their employees to transfer. However, he braved those odds and was able to make the Vivonic fitness planner a reality.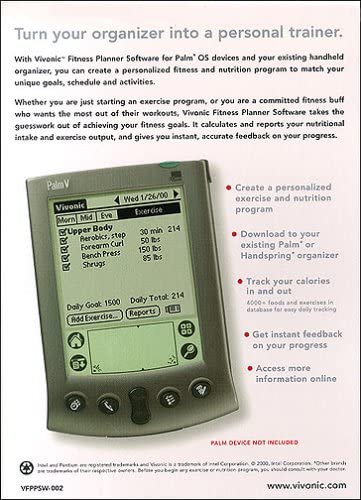 Results
The Vivonic fitness planner came out in July 2000, with a portable touchscreen computer dedicated to recording meals & exercise for $229. For those, who didn't want to invest in another portable device, Vivonic also sold the same program (minus the pedometer) to install on Palm OS Devices.
The consumer health industry had seen a lot of traction in the past couple of decades. While there are hundreds of apps, gadgets, and equipment out there today focusing on consumer health, back in 2000, the Vivonic fitness planner was one of the initial products in the category that acted as a diet and exercise motivator and planner.
In a way, we could say that it set a precursor for generations of fitness gadgets, all thanks to this one intrapreneur within Intel.
In our view, Paul shares the spotlight with other intrapreneurs like Nitin Prajanpe at HUL, Mr Sivakumar at ITC, Kara Wenger at Zurich Insurance, and George Swenson at 3M. Countless intrapreneurs like them have changed the fortunes of their organizations, and they were possible because they were quick to capture ideas and implement them. Want to read all about them? Then get your hands on our ebook covering Intrapreneurial stories.