We've all heard of Blockbuster, the video rental chain that once dominated the market with its thousands of physical locations worldwide. However, do you know how it fell from grace? When did Blockbuster failure story begin?
Blockbuster was an American-based provider of home movie and video game rental services. The company was founded in 1985 and headquartered in Dallas, Texas. Throughout the 90s and the early 2000s, Blockbuster was the renowned video-rental company in the US. In 1988, Blockbuster became the most popular video-store chain in the US with 800 stores. In 1992, it expanded overseas when it bought out video-rental chain Ritz in the UK with a total of 2,800 Blockbuster stores. During early 2000, Blockbuster had over 9,000 stores worldwide and over 45 million registered users. It had an extensive movie collection and an unrivalled snack space, making it the most convenient store for all in-house entertainment and snacking.
Reasons behind Blockbuster failure-
Undermining customer satisfaction:
Blockbuster's income was mainly based on late fees, a model that penalized customers for keeping their VHS cassettes for too long. For any movie rental that was not returned by the due date, Blockbuster charged a steep late fee ($1 per day). It also charged consumers a monthly subscription fee of $19.99 for three movie rentals per month. Since Blockbuster's primary source of income is from penalizing its customers, the strategy did not last long.
With the changing market conditions, the demand for online streaming increased among consumers in the late 20s. However, Blockbuster ignored customers' preferences by not shifting to online streaming. Instead, it continued with its traditional rental model and charged its customers per rental. This was becoming less appealing to customers as they looked for more convenience and ease of watching videos.
Netflix, on the other hand, recognized the demand for online streaming and offered it as a core component of its business. By offering a monthly subscription model with unlimited rentals, Netflix was able to provide greater value and convenience to customers, making it more appealing than Blockbuster's rental model. Blockbuster had poor customer service and high rental fees which made it difficult for customers. Blockbuster's failure to understand client preferences resulted in its downfall.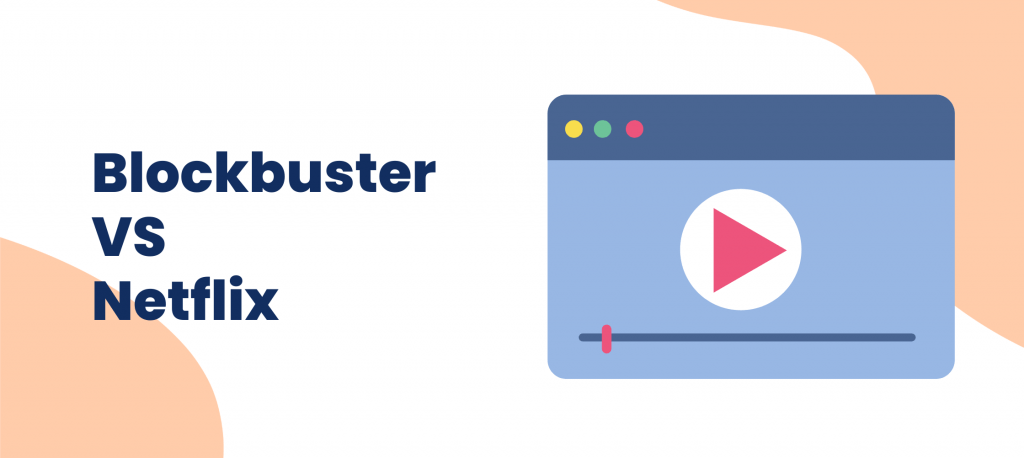 Unyielding to new opportunities:
Another factor in the company's demise is the crucial mistake Blockbuster made by rejecting an agreement with Netflix. In 2000, Netflix sought to sell its business to Blockbuster for $50 million. This Blockbuster Netflix deal was sure a shot in the dark. With its company only having started in 1997, Netflix was still a young upstart in those days. If the transaction had been approved, Netflix would have been in charge of Blockbuster's online operations.
Blockbuster raised $465 million in an IPO a year prior, so, at the time, it could afford the acquisition price. However, Blockbuster declined the offer, stating that the price was too expensive. Barry McCarthy, the former CFO of Netflix, claims that Blockbuster "laughed us out of their office."
After Netflix's bid was rejected by Blockbuster By 2006, Netflix had six million users. Within a few years, Netflix was establishing a dedicated and expanding client base. And consequently, the failure of Blockbuster started. 
Blockbuster experienced the beginning of its demise in 2004 when Viacom sold its majority stake in the video renting business. According to the documentary, the chain had 9,000 physical locations globally at its height, with one Blockbuster opening every 17 hours. When Dish Network purchased Blockbuster out of insolvency in 2011, it had 600 locations.
Blockbuster introduced the Total Access program in 2006, which allowed online customers to return rentals to Blockbuster locations in exchange for a free DVD rental for a single low flat charge. The program was incredibly popular, but it came at an expense; every time a consumer used the program to exchange a DVD, Blockbuster lost $2. Blockbuster had to increase the program's fee, which resulted in the loss of customers, to stem significant losses from the program.
The leadership disputes:
Blockbuster's board member and activist investor Carl Icahn fought against the company's entry into the online rental market, urging it to remain to its brick-and-mortar origins. To achieve this, Icahn handled the firing of John Antioco, who served as CEO of Blockbuster for ten years beginning in 1997, and then in 2007, Jim Keyes was appointed to the position.
Similar to Icahn, Keyes was dedicated to Blockbuster's physical and mortar operations. 
Niko Celentano, a former Blockbuster shareholder wrote after Blockbuster filed for bankruptcy in 2010: 
"Jim Keyes is the main reason Blockbuster is in this position today due to his denial of being in a business model that did not work anymore. If Jim Keyes would have seen the changes that were evolving in this industry in the past few years, Blockbuster would not have been in the courts today filing Chapter 11 bk protection… Jim Keyes has failed in his job as CEO of Blockbuster and should resign immediately."
According to Tom Casey, the Former Chief Financial Officer of Blockbuster Video,
"Most people think Blockbuster went out of business because of Netflix. What really happened was Blockbuster and Netflix were pretty evenly positioned to grow in the mid-2000s and 2007, '08, and '09. They had capital, we did not."
Blockbuster Failure in a Nutshell:
Blockbuster's inability to adapt to the changing market conditions, poor customer service, high rental fees, and inability to understand and adapt to client preferences resulted in its downfall. Netflix recognized the market trends and offered a more convenient and customer-friendly model that eventually surpassed Blockbuster. So when did Blockbuster go out of business? Finally in 2010, Blockbuster filed for bankruptcy. The company has to pay a debt of $1 billion. 
The once-great video rental chain serves as an innovation lesson to businesses. Being stuck in outdated models and refusing to adapt to market trends can lead to the failure of a company.
In today's world, companies must be willing to adapt to changes in the market and invest in research and development to stay ahead of the competition. As CIOs, CTOs, and CEOs it is your responsibility to ensure that your company's innovation management processes are effective and aligned with your company's strategic goals. Start with an idea capture and innovation management tool today!