About AT&T
AT&T Inc. is an American multinational telecommunications holding company headquartered in Downtown Dallas, Texas.  It is the world's largest telecommunications company by revenue and the third-largest provider of mobile telephone services in the U.S. This article is about the invention of SmartMic.
Idea and Implementation
In 2009, AT&T launched The Innovation Pipeline (TIP). It is an online crowd-sourcing platform for its global workforce to bring together the finest ideas throughout the company. As of 2019, 130,000 members from 54 countries and all 50 states submitted over 50,000 ideas and over 100 projects have turned into genuine products and services.
One of the ideas submitted through TIP was a collaboration tool called SmartMic by a first-year employee. His idea was to turn a smartphone into a wireless microphone which can be a great help during conferences.
AT&T's Alice Ham assisted with the further development of SmartMic. The system lets you use your smartphone as a wireless microphone and as a polling system. If you're attending a conference,  instead of shouting over a crowd or waiting for someone to deliver a mic to you, you can speak into your smartphone connected to SmartMic. Then, your voice will pipe through the stage speakers.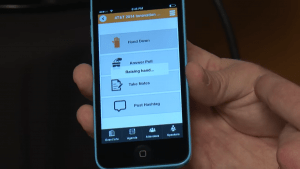 Alice was able to gain support for the proposal and secured the project for usage within AT&T.
"As a TIP Champion, you have to think about what kind of next great ideas might be helpful for our customers and business. Then you make those ideas a reality, it makes me proud to work for a company that challenges its employees to bring innovation to life."

– Alice Ham, Lead of Strategy and Capital Planning at AT&T.
Results of SmartMic:
SmartMic was successfully accepted for use within AT&T. This kind of innovation changes the way certain things are done and is a beautiful example of how existing technology can be tweaked to serve other uses. A similar example of this can be drone technology. Primarily used for image and video capturing and monitoring but, later adopted to make possible high-speed delivery a reality. Services like Amazon prime air are a fine example of it. 
Did you realize your employees too could have game-changing ideas? You're missing out on them if you don't have access to an idea management program in your organization. Now while AT&T has its version of the idea management software, you don't need to be as huge as AT&T to implement and benefit from a similar program. Irrespective of the size of your organization and/or teams, we have an idea management solution that should fulfill all your needs. You can find out more about the tool here – Benefit from your employees' ideas.