Looking for an idea management platform? As a product or service manager, your responsibility is to develop creative business models.
To achieve that exceptionally, you should include more members in the innovation process and streamline idea management.
You'd agree that Collecting innovative ideas and innovative insights gets difficult if you rely on email threads or discussion boxes.
You might face issues like ideas overlapping, duplication of ideas, not being able to track the idea's progress etc.
So, how an idea capture tool helps in this?
Let's understand what is an idea management tool
Idea management software is a tool that is used by innovation or project managers to manage ideas from different teams in the organization.
Unlike slack channels or other project management tools, an IMT not only helps in capturing and managing ideas but also enables an innovation culture, empowering employees to submit their ideas for the overall growth of the company.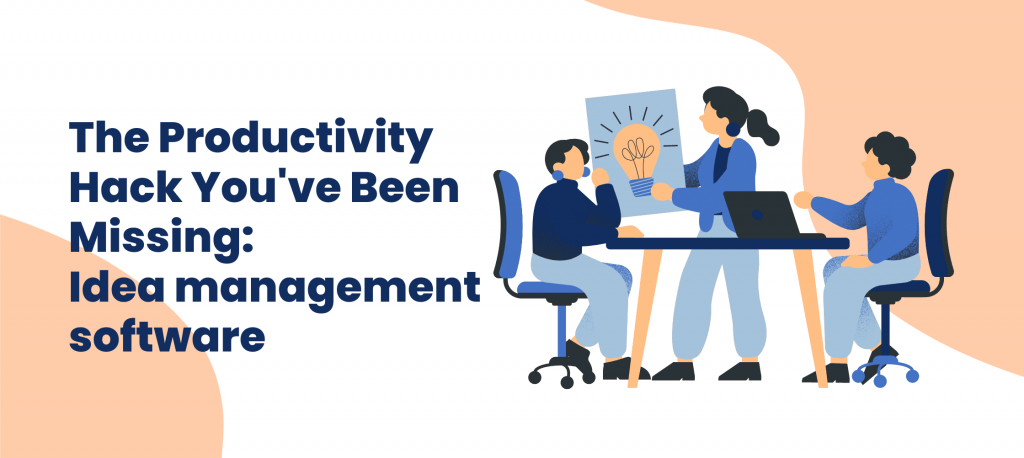 Idea capture and management tool utilises a systematic approach to facilitate problem-solving, creativity and innovation within your company.
Such a tool can be integrated into your preferred system and accessed by all members effortlessly. 
According to Forbes, 80% of organizations believe that innovation is a top priority for their organization. 
There are countless examples of companies that failed miserably due to their lack of innovation.  
How an Idea Management platform can upgrade your company's ideation process?
An idea management tool empowers businesses to harness the collective intelligence of their workforce, foster collaboration, and leverage diverse perspectives to drive innovation.
By capturing and nurturing ideas, organizations can continuously adapt, innovate, and maintain a competitive advantage in their respective industries.
Minimization of missed opportunities:
For many reasons, not all employees feel comfortable presenting their ideas to their managers. Fears of favouritism or getting the idea stepped on; act like a big hurdle.
To give the employees a more secure space to submit their ideas, the tool shall have the feature of submitting ideas anonymously.
Hence, the ideas will be sprung up without judgements.
Consequently, this will prevent cases of missed opportunities as innovative ideas will not be kept hidden.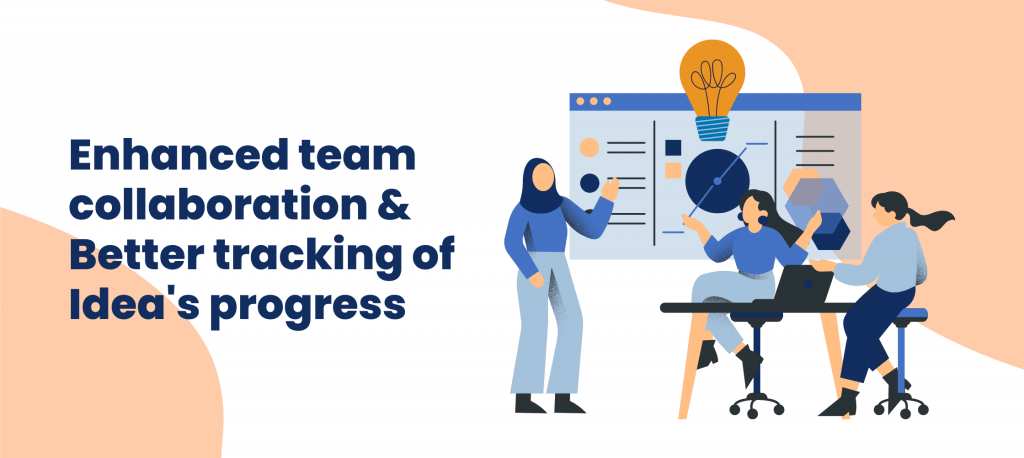 No more idea management stress:
You can appoint idea reviewers as per your preferences like- teams, location, type etc.
This makes it easy to give the proper amount of attention to every idea.
This helps in the better organisation of ideas into a step-by-step mechanism making their implementation easier.
You can try our idea capture tool for yourself here. 
Improve innovation focus:
In the path of innovating, collecting and managing ideas takes much more effort than implementing those ideas.
Software for an idea management process reduces the time taken from idea formation to idea implementation significantly.
This causes the road map to idea implementation to be fast-tracked so that the implementation of an idea can be solely focused on. 
Better collaboration among team members:
When your employees spend most of their time completing their projects, solving existing problems and meeting deadlines, it becomes difficult to foster an innovation culture in the workplace.
An Idea management platform creates an avenue for collaborative idea capture by allowing you to conduct innovation challenges.
Most innovation challenges like Hackathons demand a lot of time and effort to conduct, but with an Idea management tool, it is a piece of cake.
Key Features to Look for in an idea management platform
There are way too many idea management software in the market and it can overwhelming to choose one for you.
Jumping from one tool to another will only waste your precious time.
Following are a few pointers that you must consider before choosing an idea management system.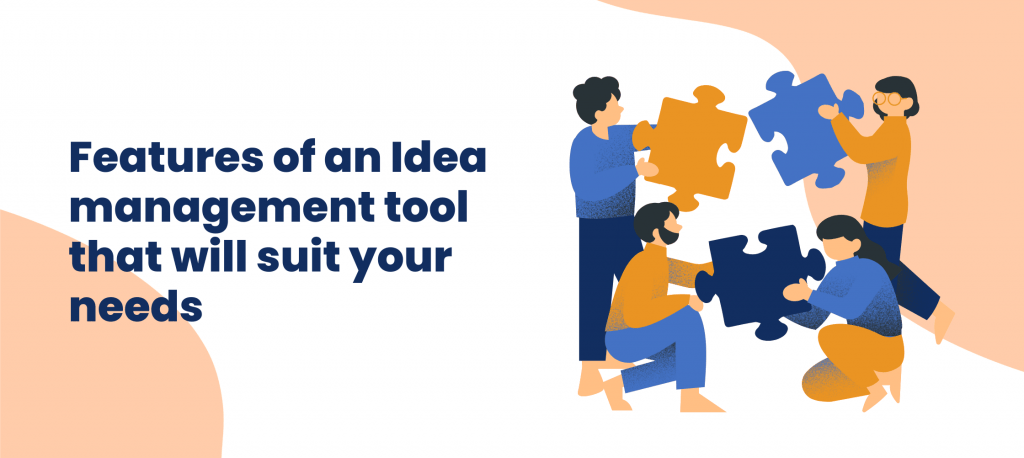 Shouldn't require prior training:
Getting a complicated tool embedded in your system that your employees will not even understand should be off the charts.
Any idea capture software should be easy to understand and should not require any prior training to use.
It must be easy to operate and have a simple UI/UX as this will make users more willing to use the software.
Detect idea duplication:
It is common amidst a fountain of ideas, that some people may come up with similar ideas.
This can create issues like detecting who had the idea first and which idea is at which stage of implementation.
So, an idea capture software must catch on to duplicate ideas to avoid confusion.  
Easily accessible:
As we discussed above, capturing ideas takes more effort than implementing them.
An idea management platform must have a simple approach to submitting ideas.
For eg, InspireIP lets users submit ideas with a single click from any location.
This effective workflow process cuts down the time between idea generation and idea implementation. 
Idea tracking and status updates:
The major issue that managers face is managing hundreds of submitted ideas and providing regular updates to the idea owners about the progress of their ideas.
An idea management platform must have the feature of idea progress tracking.
InspireIP's timeline feature lets the users see where the ideas lie on the innovation trail themselves. You can learn more about these outstanding features by contacting us here.
Integration with your preferred communication channel:
If your teams have their important discussions on the Slack channel, Gchat, or Microsoft 365, you must look for a tool that can be integrated into this software.
As it will make it so much easier to transfer data.
InspireIP integrates with your preferred channel and can automatically capture ideas as they are shared in conversations.
No hidden cost:
Some tools out there are just too costly and may not provide sufficient value.
Some tools have hidden costs that surface later as you start using them.
While doing your research, you must find a tool that does not have any hidden costs and is not unnecessarily expensive.
Customizable features:
As every business is different, yours will also have its special requirements in features.
If a tool has limited functionality or features that don't align with your needs will provide you with no benefit.
You must choose a tool that offers additional features, can be customised, and keep on improving will be the best for you. 
Innovation or IP management:
This mostly depends on what your goals are. If you are looking to capture ideas that are also innovative and patentable, you will require an innovation management tool.
That simplifies your IP management and manages disclosures.
Not all idea management tools are designed for innovation management but with InspireIP, you get both.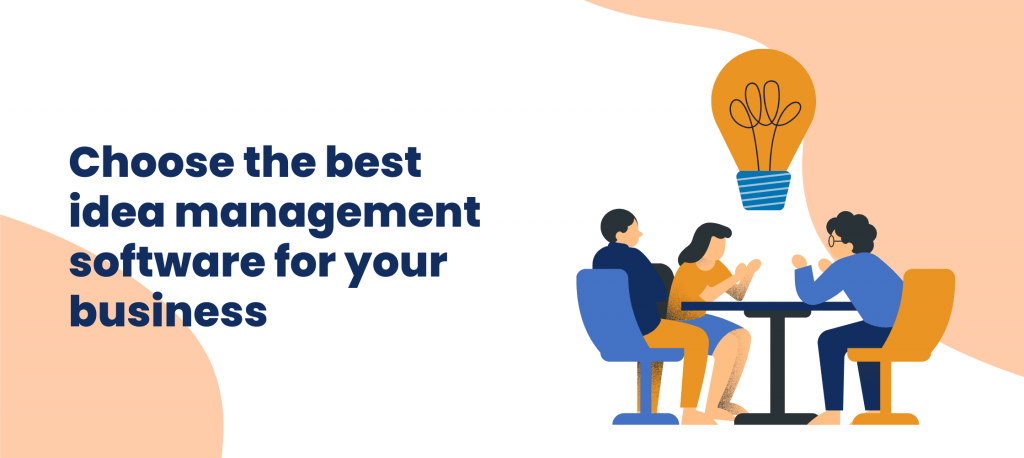 Authenticate if the idea management tool is for you.
Every day, more vendors arise from the shadows and it's important for you as a manager to check if your software of choice is enterprise ready.
Your idea management tool of choice should:
Quickly and effectively integrate seamlessly into your applications.

Provides you with the Enterprise level security and scalability your organization needs.

Can be used without any prior training and have simple UI/UX.
Provide progress tracking of all the submitted ideas.
Checks all the boxes that we previously mentioned.
Few Strategies for using the tool effectively
The story doesn't end when an idea is adopted, failure to follow some standard practices will prevent an idea management tool from being effective.
Organizations have recorded zero profits in terms of ideas not because the tool didn't get the job done but because it was not implemented effectively. 
Some of these standard practices include: 
Conducting innovation challenges using the tool
Implementing submitted ideas to motivate the teams

Developing a regular habit of capturing ideas

Regularly reviewing and revisiting captured ideas

Collaborating with team members effectively using the tool

Incorporating the tool into your daily workflow
In Today's business world, Organizations go to great lengths to boost productivity.
The use of idea management tools has broadened employees' inclusion and involvement in company activities.
The difference between where you are now and where you want to be in terms of innovation is- adopting a tool that will encourage teams in collecting and implementing innovative ideas. 
Pick the best Idea management software- InspireIP
Evidently, idea management tools save time and money by streamlining the ideation and innovation process, reducing duplicated efforts, and enabling more efficient collaboration and decision-making.
A good idea management software also helps businesses stay competitive by allowing them to stay on top of emerging trends and opportunities, and by fostering a culture of innovation that encourages creativity and experimentation.
When we developed InspireIP our goal was to stand out from the crowd.
Hence, we developed a tool that is easy to use whilst having the right resources to have you covered from start to finish. InspireIP ticks all the boxes for the functionalities explained in this article. 
An added advantage is how quickly your organization can get on board. Within 24 hours, InspireIP can be integrated into your organization and if you want a free basic trial, all we need is 5 minutes of your time.
Don't hesitate to contact us at enquiries@inspireip.com and you will hear from us!